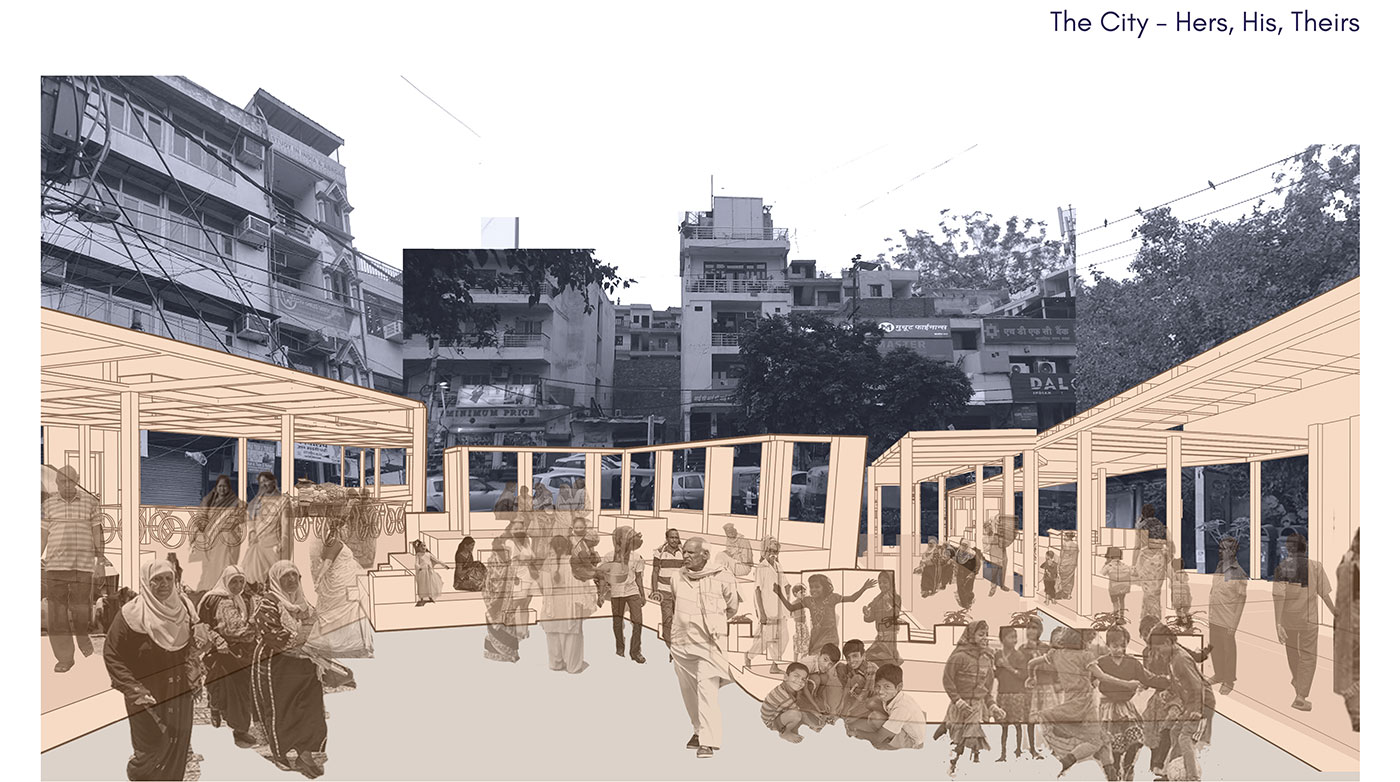 08 Nov

Hers, His, Theirs: Re-imagining the city for her. (Second Prize Winner)
Theme: Mitigating Migration – Impact of Resettlement on Gendered Bodies
Within the context of India, where the 'migrant worker' is a wide-spread phenomenon, the migrant woman is a citizen who is an integral component of the urban machine, but an anonymous newcomer.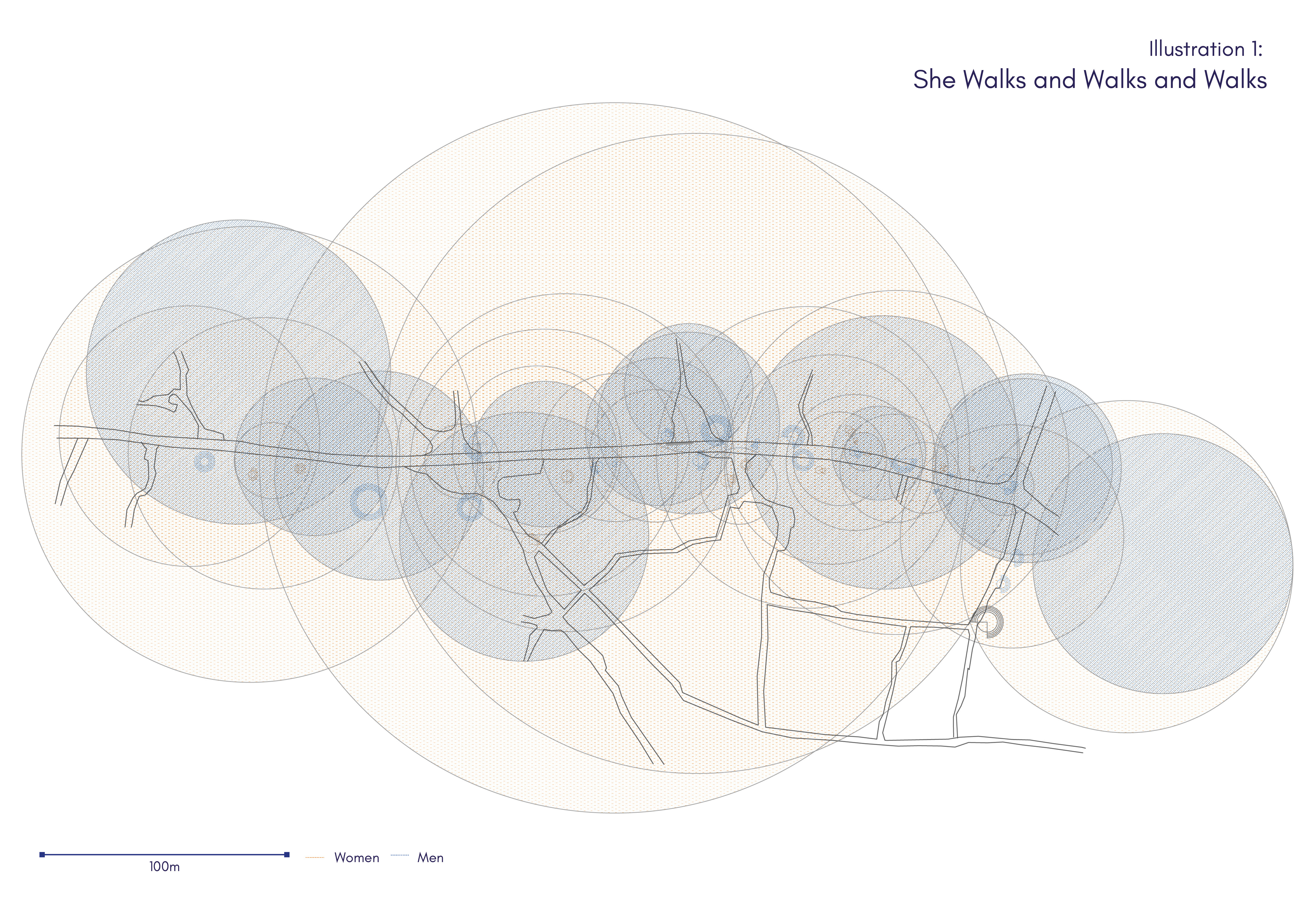 Illustration 1 observes women who have a similar story to the migrant woman – who engages in paid work to support her family and undertakes all domestic responsibilities, which often follow her into the public realm. How does she navigate the city then? The study (conducted in the rural-urban bioregion of Auroville, South India) indicates that women are largely pedestrians on the street, especially in areas disconnected from public transport, which drastically reduces their reach of the city and their time for leisure. Can there be an inclusive city in which all women can feel a sense of belonging and have equal opportunities?
(Illustration 2)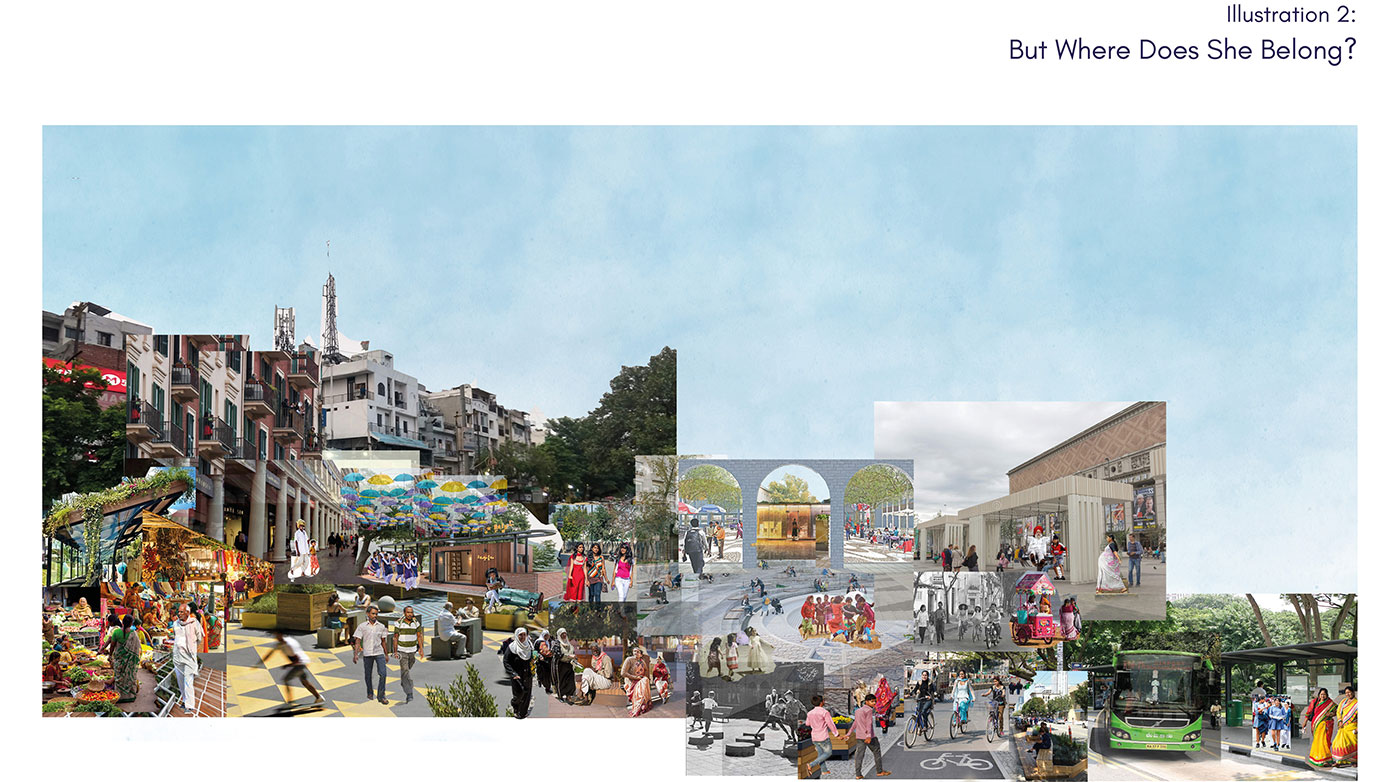 Perhaps this inclusivity can physically manifest in a space where they can engage in a multitude of activities, attached to necessary urban transport infrastructure (Illustration 3), which expands from its functional use as a point of departure or arrival into a space that becomes inherently hers.
(Illustration 3)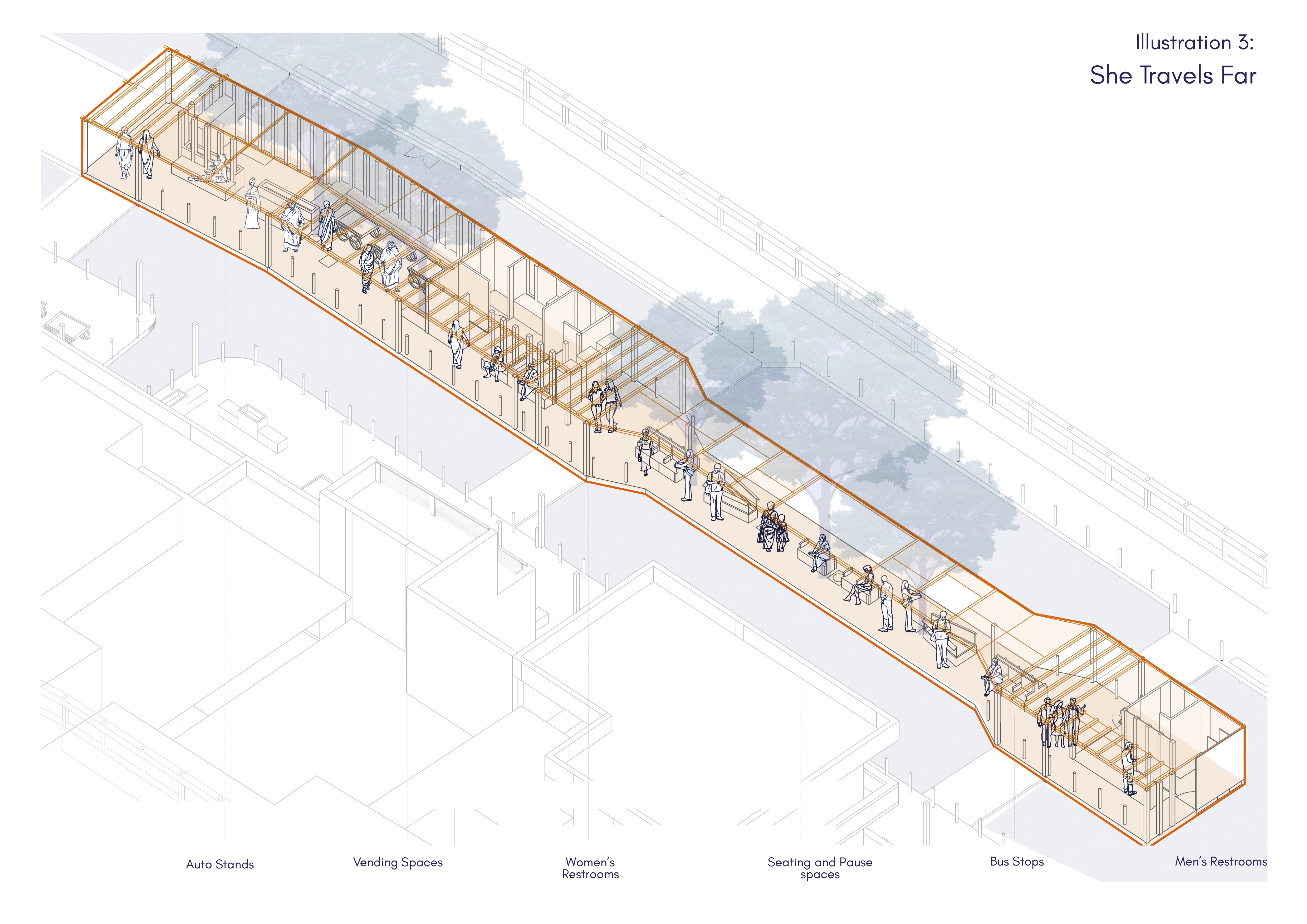 Whereas the public realm may not be hers yet, the study observes that the domestic realm already is. What if this pre-existing notion of authority over the household and residential sphere is extended into the public realm through design that propagates leisure, where she is more than a migrant worker, but a woman who exists in the thriving city?
(Illustration 4)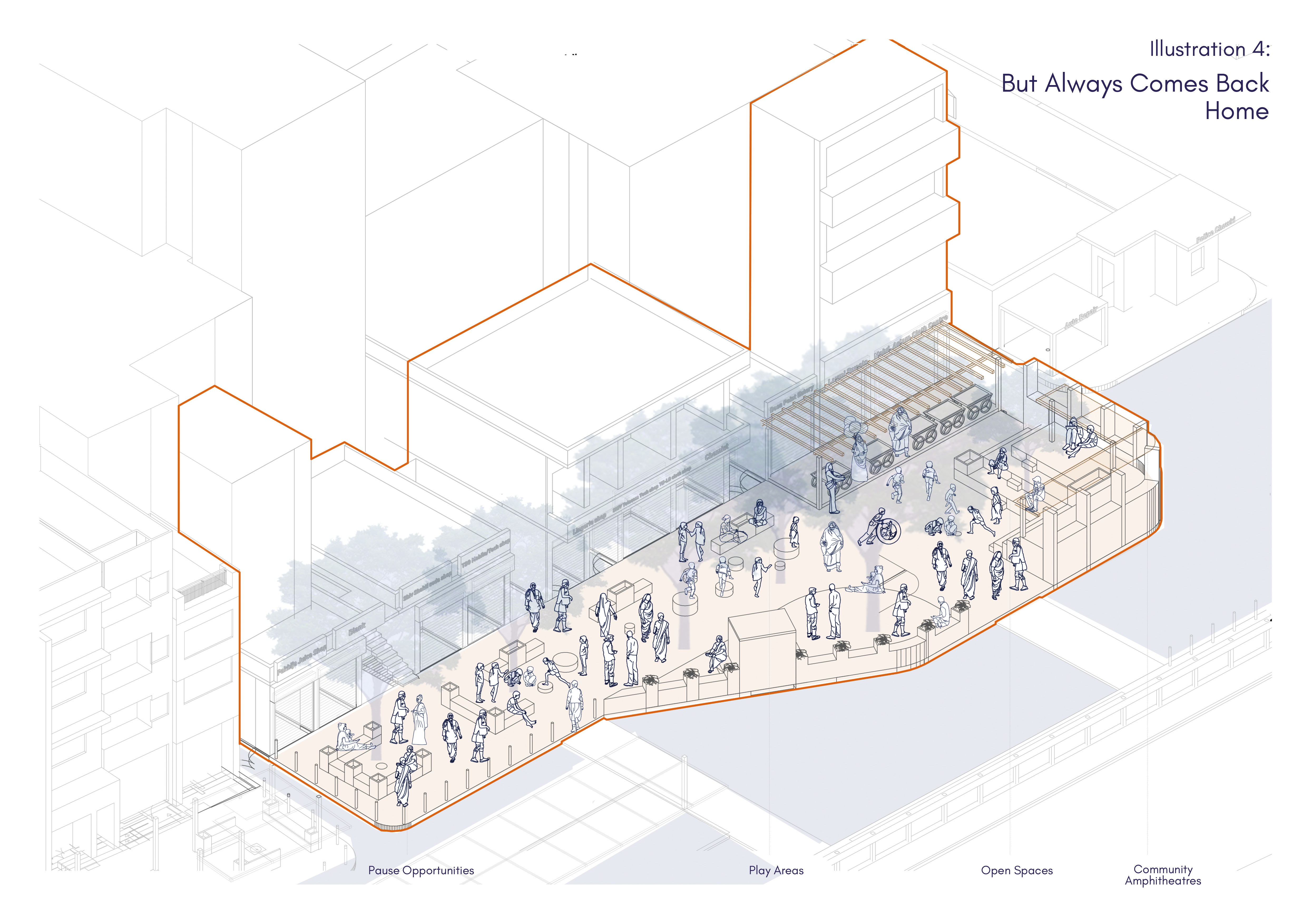 'Hers, His, Theirs' asserts that gender-based hardships can be addressed through appropriate design decisions, which increase the autonomy of women- migrants or otherwise- as inhabitants of the city, as well as challenge gender norms, triggering changes directly through the expression of the built environment.
About the Author: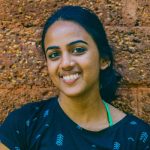 Bhavya Trivedi is a student who is passionate about understanding the multifold relationships between our built environment and those who inhabit it, currently pursuing a Bachelor's in Urban Design from CEPT University.  She believes that multidisciplinary approaches are integral to understanding our convoluted world and therefore her interests lie in research, analysis and design as well as creative writing, the performing arts and sports. Project Hers, His, Theirs was inspired largely from her personal experiences as a woman living in the city who is constantly navigating its form, its people and its culture. The project was developed as a part of the design studio 'Ungendering the Everyday City', guided by professors Sahiba Gulati and Bhagyashree Ramakrishna.