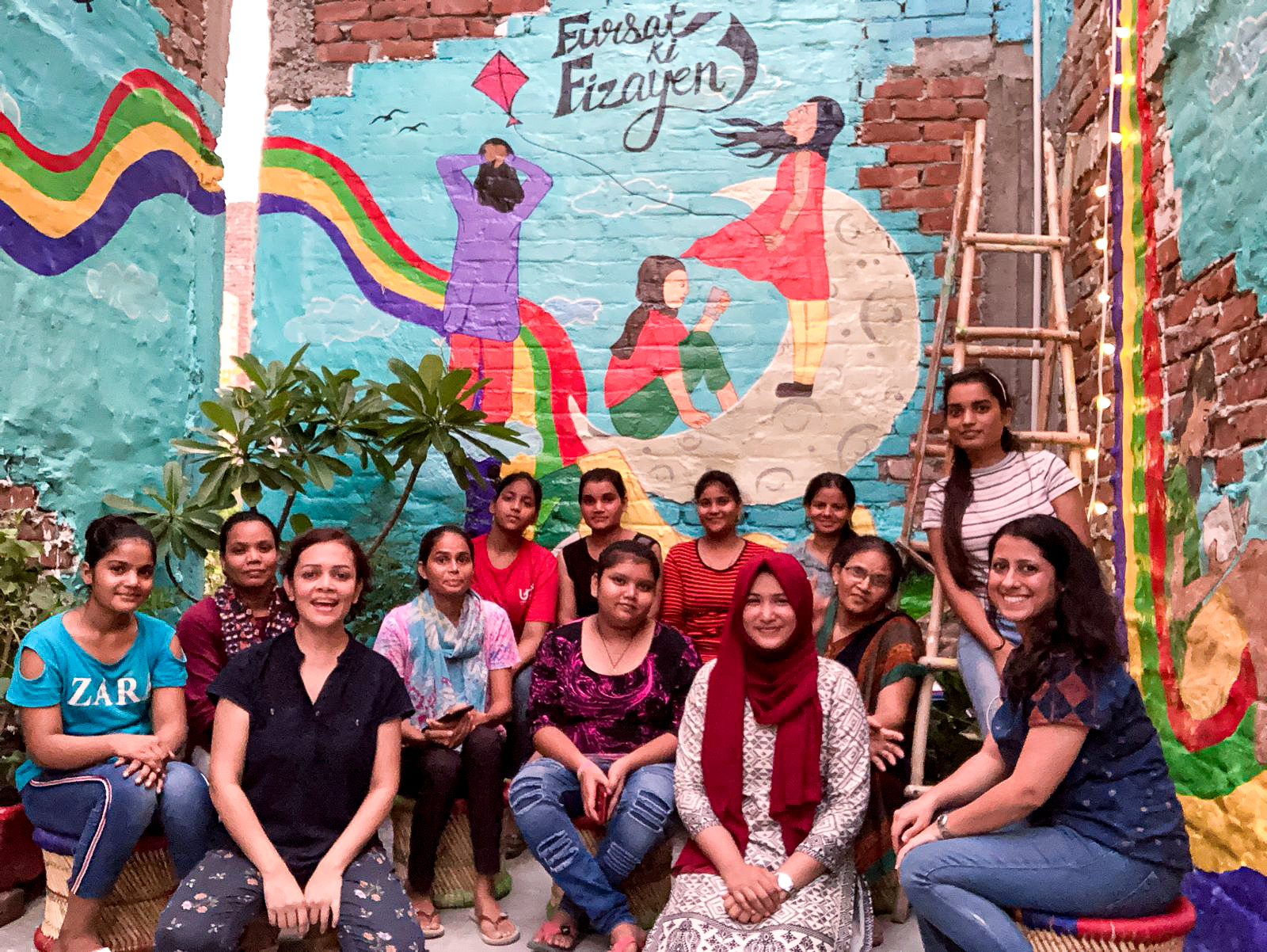 31 Mar

Re-gendering open spaces for leisure, one terrace at a time

Adequate housing is not just houses, but ensuring safe, liveable and inclusive neighbourhoods for all. Art and culture are an integral part of this process. 'Fursat ki Fizayen', a socially engaged art project encouraging women's participation in public space, offers insights into how young women from peri-urban areas exercise their 'right to the city' with a focus on spaces and stories of leisure. Based in Madanpur Khadar – an under-resourced, poorly serviced resettlement colony in Delhi with a predominantly working class population – the project is an example of how socially engaged art creates openings that commercial practice does not, and has the potential to reconfigure residential communities towards inclusion.

Gender Biased Violence (GBV), especially Violence Against Women (VAW), is a living reality for the women of Madanpur Khadar – an under-resourced, poorly serviced resettlement colony in Delhi with a predominantly working class population. While the underlying causes of GBV are rooted in patriarchal relations, the impacts of urbanisation on gender compounds those relations by creating opportunities for VAW. As seen, VAW varies according to geographical location and scale as well as various other causal and contextual processes in cities. Resettlement colonies, an iniquitous output of the urbanisation process, are particularly known to have deep ramifications on the lives of women and others by impacting their livelihoods, their access to opportunities, resources, services and their 'right to the city.' Further, physical configuration of urban areas planned with the masculine vision, have rendered urban spaces unsafe, inaccessible, and non-inclusive.

Contributing to this larger discourse on GBV, VAW, and gender and urbanisation, 'Fursat ki Fizayen', a socially engaged art project supported by Khoj International Artists' Association, offered us an opportunity to understand how young women from peri-urban areas exercise their 'right to the city' with a focus on spaces and stories of leisure. We explored the concept of leisure with a group of young, single, working women of Madanpur Khadar as a way of acknowledging women's right to leisure time for personal growth as well as mental and physical well-being; as a way of addressing women's right to leisure spaces in the city; and together with such approach, work towards building gender inclusive cities.
Madanpur Khadar is a peri-urban, high density, resettlement colony in Delhi, where the provisions of basic urban services and amenities are grossly inadequate. Open spaces within this tightly packed, built to edge, lower income neighbourhood are heavily gendered, unsafe, and hence inaccessible, discouraging young girls and women from enjoying these spaces. Instead, they avoid these spaces completely and remain invisible in their own neighbourhood as well as in other contested open spaces in the city. Lacking access to physical leisure spaces, but having access to smartphones, the girls escape into the digital space to live an alternative reality of public life. Through construction and projection of self, in an anonymous digital realm, they express their aspiration for enjoying leisure without being judged or afraid. Thus, providing access to a safe space where the young women could enjoy leisure time without the fear of harassment or violence became the primary objective of the project. Being spatial design practitioners, we wanted the artistic interpretation to be spatial in nature which would benefit the community and challenge socio-spatial politics of women in leisure.
When people spend their leisure time, they construct their identities using spaces by expressing themselves and interacting with others. Our project Fursat ki Fizayen, wanted to explore the dialectical relationship between leisure and space by engaging young women to reflect on how they think and construct their own images in the public domain. This made the process of place-making and image-making a powerful tool for social empowerment, fostering ownership and belongingness of the young women for their created environments. Through community engagement methods using participatory tools, we curated stories of daily negotiations and contestations to understand the lived experiences and spatial realities of these young women exploring and reclaiming spaces for leisure in their own unique ways. Aspects of time, space and nature of leisure were discussed to co-design and co-produce leisure spaces with the girls. Such stories further could be used as means to understand and question the ways in which the world affects women at leisure.
Among the many open spaces imagined and desired for at the neighbourhood, precinct, and city level, the forgotten, underutilized, and seldom used for leisure – the terrace – was imagined by the young women as an open to sky space for contemplation, selfies, digital entertainment complete with seating, swings, and garden. Terraces and balconies surfaced as re-discovered outdoor spaces during the pandemic. From being conventionally used as extended spaces of domesticity for chores and storage, they emerged as spaces of relief and escape from the confines of the four walls to survive the lockdown.
---
Our knowledge and facilitation partner Jagori provided the actual space for intervention – the terrace at their community office at Madanpur Khadar, where we held our workshops and meetings with the group of young women. The terrace at Jagori was also seen as a safe, familiar, and accessible space. Straddling multiple binaries, this space was imagined as personal yet collective, private yet public, internal yet external – an open to sky, elevated garden with lots of plants,  seating, lights, decorations, music, mirrors, games (carrom, hopscotch, skipping), exercise equipment (weights, stretch bands), a patch for a kitchen garden and various backdrops for selfies. A colourful wall mural was also conceptualised. The girls co-painted the wall mural with two young mural artists, who visualized the ideas curated with the girls. Together with the girls, the artists painted each of the girls' avatars in joyful colors, enjoying both productive and non-productive means of leisure – reading, singing, working out, taking selfies, dressing up or just watching the world go by. The mural also strongly represents women's right to experience leisure freely without the fear of harassment or violence. Since the young women have a strong digital presence, a Wi-Fi connection with boosters, charging points and speakers have been installed along with creation of a beautiful backdrop for video calls/meetings, selfies/reels. A QR code printed on the wall connects the visitors to our Instagram page. The reclaimed terrace now has become a space for me-time, meet-ups, addas, celebrations and an additional official space for Jagori employees.
---
Having an afterlife, way beyond the duration and scope of the intervention, was an inherent quality of the project and its associations. The women started appropriating the space by growing their kitchen gardens, making their decorations, creating their selfie backdrops, holding their celebrations, and bringing along more women and girls to enjoy the space. The vibrant terrace hopefully will be used in creative ways to experience leisure by the community and may explore other imaginations on leisure by the women. This terrace now could also be seen as a built prototype made available for replication, additions and alterations. It could trigger similar ideas to make use of underutilised terrace spaces to their full potential using local skill sets, locally produced/manufactured products and locally available materials – which are low-cost, sustainable and support local businesses. Together, terraces could fulfil the need for open green spaces in the neighbourhood, more so during the pandemic.
Fursat ki Fizayen is seen as reclamation of space, rights and aspirations, bringing forth multiple narratives on women's leisure in the visible public domain, and encouraging women's participation in public space. Our heartfelt thanks to the young women for their active and continuous participation in the project in spite of the raging pandemic and to enthusiastically take part in the transformation of the forgotten terrace into a delightful leisure space for themselves and others. For more information on the project and the process undertaken to co-create this leisure space, follow our Instagram handle 'fursat_ki_fizayen'
The authors would like to thank Huma Parvez for her diligence and meaningful contributions to the project. Huma worked closely with members of the community to build this terrace space.