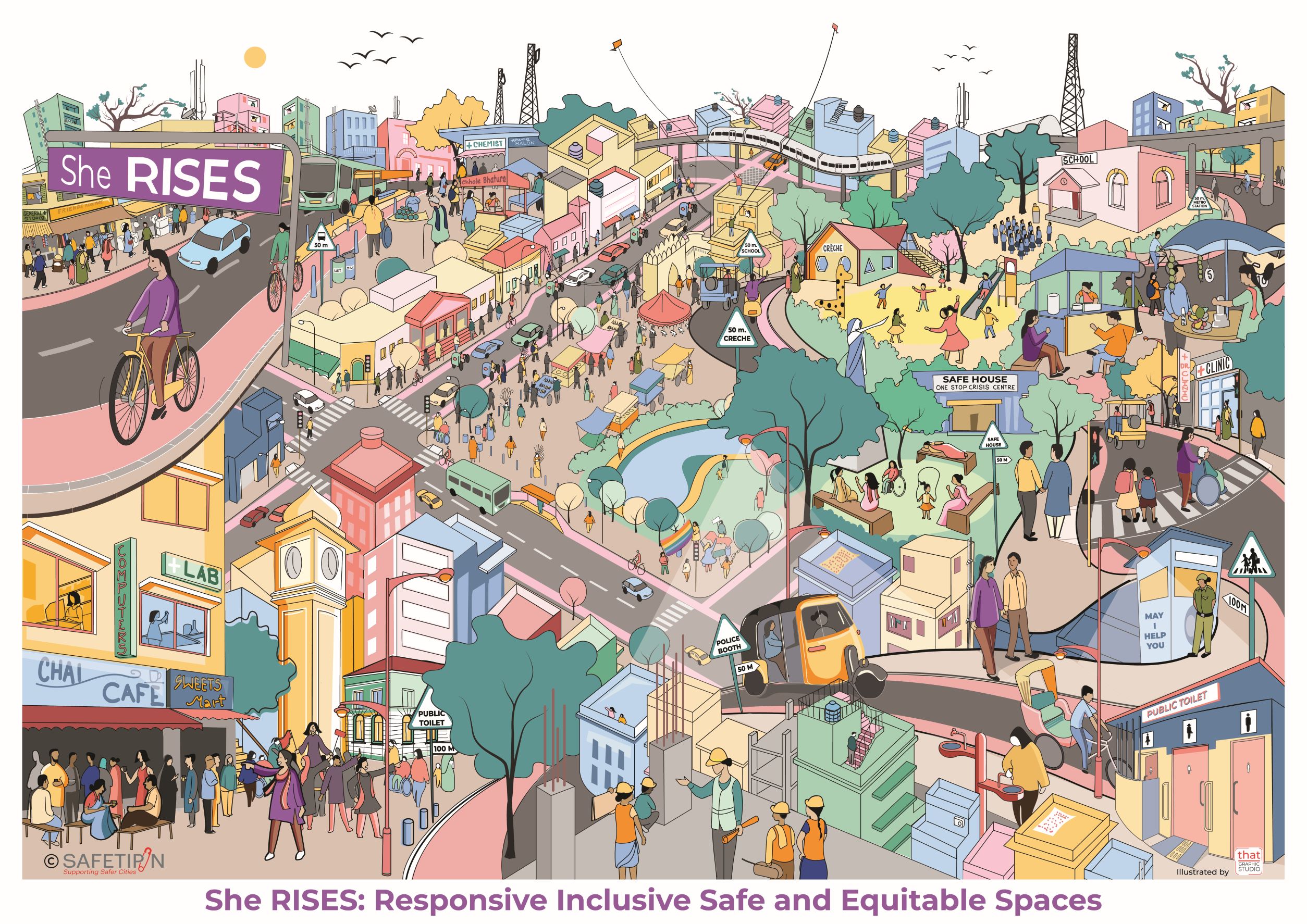 31 Oct

#SheRISES

As Urban October comes to an end, Safetipin would like to celebrate World Cities Day with our #sheRISES framework. Through the month, we have been unpacking each letter in the hashtag #sheRISES along with visuals of what women-friendly cities would look like. Over the past years of working in cities, this framework represents how gender transformation can take place in our cities. The poster aims to bring to life these principles through the everyday life of the character of a young woman as she traverses through the city. Cities are spaces for work and employment, but they can also be spaces for leisure, play, culture, and meaningful engagement. Often for women, the experience of the city is coloured by fear, violence and unequal social norms along with gender blind urban planning and design. Our vision of a feminist city is one where people of all diversities enjoy the "right to the city" -which includes the right to create the city they want and can belong. Just to recap, each of the letters in RISES represents a principle that is central to women- friendly or feminist cities.

A responsive city is one where infrastructure and services are designed, planned and managed based on the needs of its residents. It is a bottom-up process through which all services and amenities are responsive to community needs. Women responsive cities will recognise that women experience, use and move around the city differently. Therefore, the design and plans must respond to the needs of a diverse set of women.

An inclusive city embraces people of all identities while recognising the certain identities have been privileged in city planning and design. Our cities and services have primarily been designed for an able bodied, heterosexual and cis men. Thus an inclusive city  will take into consideration the experiences and needs of people across the gender spectrum, economic status, race, religion, ethnicity, age and sexual orientation.

Women inclusive cities foreground an intersectional perspective to ensure the needs and experiences of diverse groups of women are placed at the centre and they have a place at the table when cities are being planned. When a multiplicity of experiences and perspectives begin to inform city planning, cities will begin to look different, feel different and respond in new and innovative ways to the varied challenges facing us as urban denizens.

Safe spaces are those where women and others can move around and engage without fear. When spaces are not safe, people restrict their activities and mobility. A safe city would be one where sexual harassment would not be constant worry, whether walking on a street, riding a bus or visiting a park. This fear has impact on the wellbeing of women. Further it limits their access to opportunities, whether for education, employment or even leisure. Public spaces and services can be designed and planned to minimise the possibilities of danger through better lighting and street infrastructure, "eyes on the street" , as well as reliable response mechanisms such as security and helplines.  Recognising that lack of safety has wide impacts on women's lives is the first step towards remedying this.

Equitable spaces and cities foreground equity over just equality as it recognizes that people are diverse and live in different circumstances. Equality acknowledges injustice but doesn't focus on the diverse life situations of people in its solutions. Thus an "equity" approach makes sure that different groups of people are given the necessary resources and opportunities needed to reach an equal outcome.  Equity and fairness cannot be a 0ne-size-fits-all solution.

To ensure fair access to education or employment opportunities, cities will need to design services and infrastructure differently to ensure the experiences of women (who often carry the burden of care work) are placed at the centre. Thus, an equity perspective on equal workspaces will factor in the centrality of child care. Similarly, an equity perspective on transport will include special
measures and infrastructure for people with disabilities to ensure that they can use it with dignity.