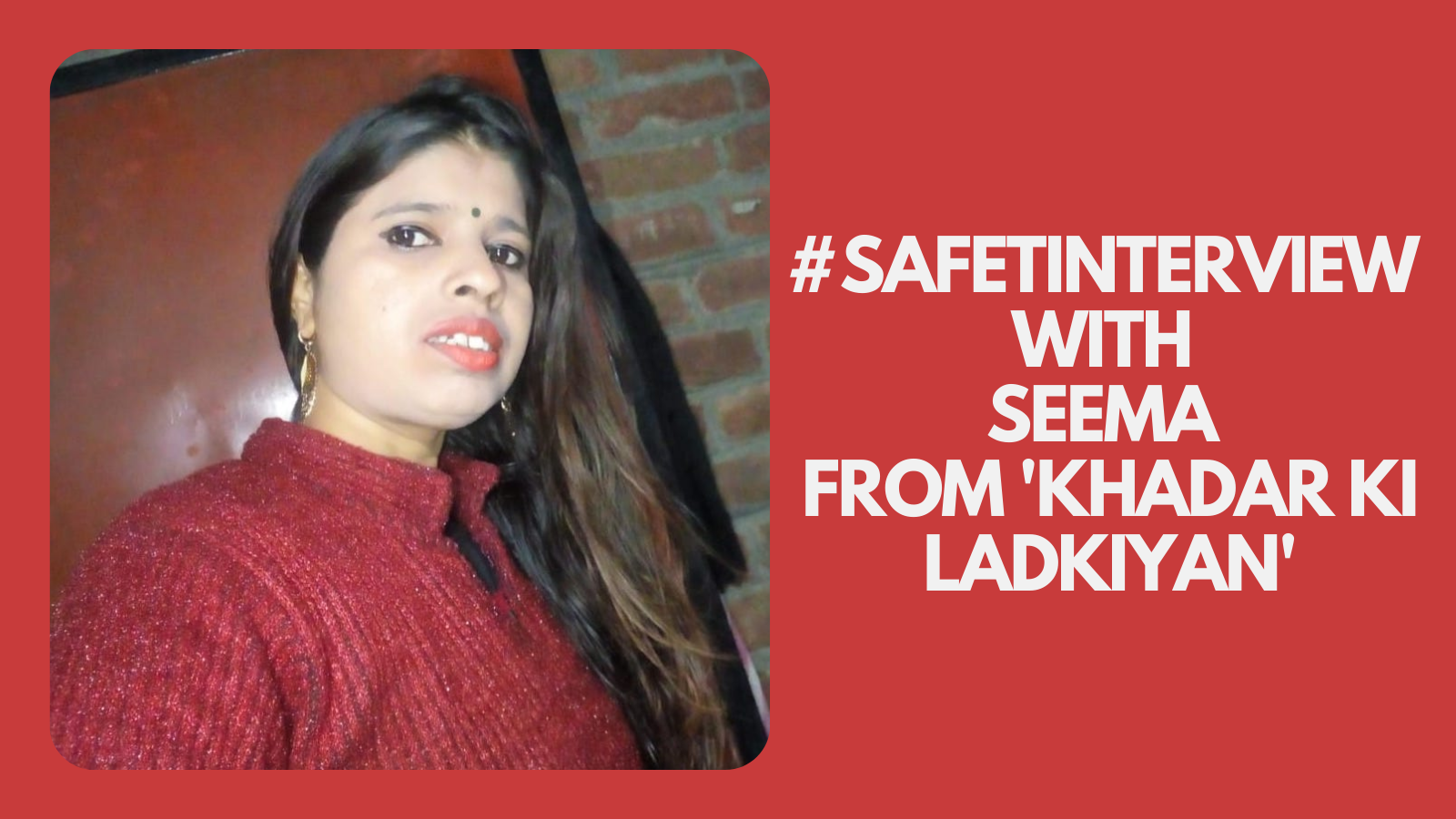 04 Oct

#SAFETINTERVIEW with Seema

There were so many amazing girls who were a part of the Khadar Ki Ladkiyan hit song and I felt that talking to just one of them wasn't enough. So, I spoke to Seema recently. She lives in Madanpur Khadar and has been there since 2001 when she and her family were relocated from Nizammudin. She has worked with Jagori and even completed her fellowship there. Now, she is working with Safe Approach NGO where she works as a caretaker at night.

I hope Seema inspires you as much as she has inspired me. Keep reading to know more about her, the challenges she has faced and the strong and confident ways in which she overcame them!

Can you tell me more about Khadar, your family and community?

When my family and I moved to Madanpur Khadar, the place was a complete mess. There were no amenities and it was very dirty. The men in and around the area would be gambling and overall, it was just a very unsafe place. Now if you see the place, it is definitely better but there is still much more that can be done.

The move to Khadar was challenging but we all managed. I have one sister and one brother. I am the youngest so I am always given extra love from everyone. Growing up I never felt like my brother was given better treatment than me or my sister, though some of my friends in the community faced these kinds of issues. Having older siblings is like having another set of parents. My brother would tell me not to wear certain dresses out and as a kid, I would listen. However, now, I wear whatever I feel comfortable in and he sees the confidence in me, so he also doesn't fight it anymore.

When I first got my night job as a caretaker, my family was very against it. My mother said that it wouldn't be safe for a girl to have a night job and she was very worried about how I would get home at that time. I didn't just want to be stubborn and fight with them so I sat them down and tried to explain it as well as I could and told them that I was very keen on doing this job. I managed to convince them to let me try it out and it has now been a few months and things seem to be going quite well.

Tell me about the experience of the Aana Jaana project and making the video?

Aana (Coming) and Jaana (Going) is something that happens on a daily basis. We did it for school and now we're doing it for work. There have been times when some uncomfortable incidents have taken place and we would let it go but through the whatsapp diaries, which was a big part of this project, we were able to share our experiences with each other and that became a safe space for all of us. We could talk about our feelings and that felt good.

Before we started shooting, I knew that we would be out on the streets and people would be staring so once we actually started, I was not flustered or distracted by the people around. What was tough for a bit was looking into the camera and saying the words. I think all of us in the video took some time to get used to that but once we got the hang of it, it was great. Nandan bhaiya, who planned the shoot, was such a great help and he's someone that I can still go to for any help if I need.

What changes have you seen in yourself and your community in the last few years?

Just a few days back, when I was coming back from work, I saw something which was surprising for me. There were 3 young girls, each 5-years-old, who were sitting together. One of the girls was pressing the other one's stomach while she was talking about pain. I realised then that these girls were pretending to be pregnant in their game. So, I went and asked their parents about it. Their first reaction was to scold the kids but I told them to stop and think about why the kids even thought of this as an idea for a game. If they have such limited exposure, what else can one expect?

I used to feel a little unsafe when I would travel alone at night, but now it's become a habit. I remember before, when I used to travel to Nizamuddin, the buses would be so crowded that being pushed around and groped was common. This was at the time when I was working with Jagori so I would share this with the office when I would reach. Talking to them and working with them was a big learning experience for me. It helped me understand safety better.

I think more than the place, it's us who have changed. Whenever I would be out on the streets in the evening, people, especially men would pass comments and it would make me uncomfortable. Sometimes the way people look at me is so disgusting. It feels like they are undressing me with their eyes. Now, I stand up to them and question them about it and they either get embarrassed or walk away. Lots of my friends who live elsewhere tell me that it's great that I stand up for myself but when their stares are so intrusive, I feel like I have no other choice!

What was the reaction to the video from your family and community?

During the whole course of the Aana Jaana project, I had kept my parents informed about all the events. So, they knew about the whatsapp diaries and the song. They were actually very supportive. They kept telling me that through this project and video, I would be able to show the realities of our community. When the video finally came out, they really liked it. They showed it to all the other families in our neighbourhood as well. It was nice to see them so proud of me. Quite a few of my friends also said they liked it and what we said in the video. I think they were happy that we spoke so freely and openly.