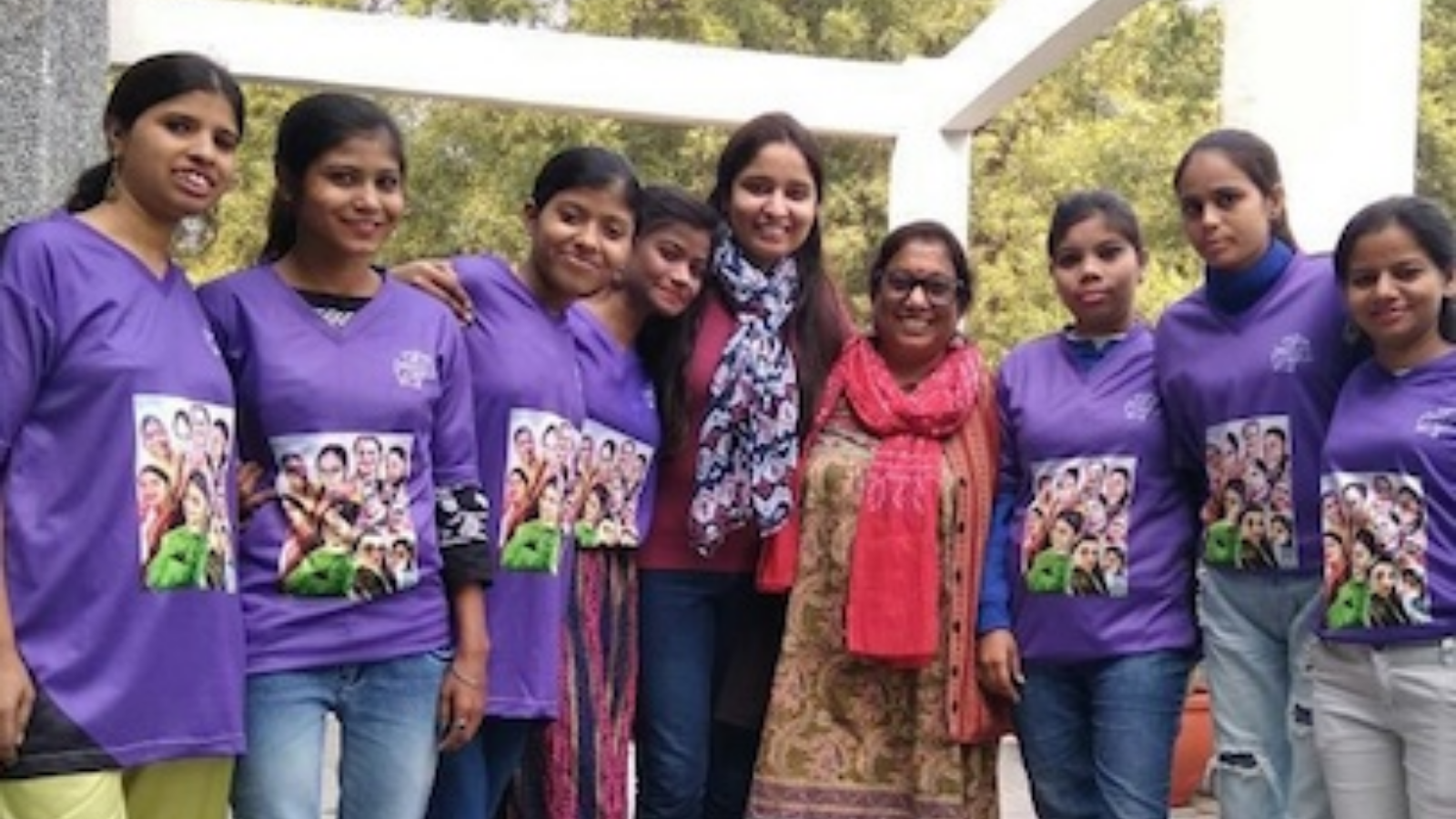 04 Oct

#SAFETINTERVIEW with Sarita

One more reference to "Khadar Ki Ladkiyan"! 

We know that it was a great learning experience for the girls but now we want to talk about what an amazing experience it was for the people working with the girls. We've put up interviews with the girls and thought it would be interesting to know about more about the project from someone working with the girls. So, let me introduce Sarita to you! She was with the girls even before the project started and has been a pillar at Jagori for the last 2 decades. She's fun, insightful and extremely welcoming to talk to. Keep scrolling to know a little about her career journey and the amazing work she does.

Q. Can you tell me about your work with Jagori?

I have been with Jagori since 2000. When I joined, I was a part of the resource centre which included, but was not limited to community research work, counselling and documentation. Soon after I joined, I also got involved with the protection of women who had faced any form of violence which was a new experience and a very sensitive one. 

In the beginning, we at Jagori, used to only work with women as we thought they were our target audience, but soon realised that that was not enough to make a change. We had to work with everyone so that they understood the problems and the extent to which it affects a woman's life. So, we started working with boys, men as well as young people. 

We always wanted to teach and have people understand how violence can occur and how there is such a thing as domestic violence. It may seem so obvious to us but there were a lot of people from urban villages, resettlement colonies, etc., that we met who were raised in environments where this was not taught. Due to this, we thought it necessary to educate more people on this matter.

It was integral for us to understand the community and create a proper relationship with them before trying to get them to make a change. We wanted to talk to them about gender based problems but before getting into that directly, we spoke to them about the condition of the toilets, their houses, their community, the quality of drinking water etc. This way we built a rapport with them and understood their concerns and problems in the community. It was only after this that we explained to them what violence is as well as its impact. In the beginning, they didn't know all the terms for different forms of harassment or its repercussions. They all knew what "ched chad" (eve-teasing) was, but it was more of a joke to them. So, we taught the boys that troubling girls on the street for fun wasn't okay and explained the same to the girls. We also had to teach them about their rights on leaving school. For example, the young girls in the community didn't know that they had an option to stay in school or that they had the right to even if their families were against it. We had to teach them that they had a voice and they should fight for it.

Q. Can you tell me about the work with the Khadar girls and of the overall project?

In 2002-2003, the people living in Hanuman Camp, Alaknanda and South Delhi were relocated to Khadar by the government. We had an entire research project to understand their migration and how it affected their opportunities. That's when I first met some of the girls who were a part of the Aana Jaana (Coming and Going) project. 

When we started doing safety audits with the young girls of Madanpur Khadar, we realised how big a problem mobility is for them. So along with AHRC, Kings College London, Ayona Dutta and Safetipin, we started a project with the young girls of Khadar. We took out time to understand their public spaces, what they understand of fear and what their perception of safety is. With this project, we got a much deeper understanding of the girls and their lives which was an excellent experience for me. These were the girls we had already done work with before so to see them in this light was new and enlightening. I saw them grow and gain so much confidence through the course of this project. 

10 of the girls in the project had a job so it was a sort of barrier to the project. They had to find time for the project after work and on the weekends, which was tough but they managed it very well. Once they put their mind to succeeding in both work and the project, there was nothing that could stop them. They were so dedicated and it was amazing to be a part of their journey.

Another aspect of the project was the Whatsapp diaries. Through this the girls would document their journeys around the city. For example, if someone was being inappropriate in the bus, they wouldn't be able to speak up at times, but they would vent out in the Whatsapp group. It was a safe space for them. After this, we started with the story mapping part of the project which was displayed as a story of the journey in the city at the Mandi House Metro Station in Delhi for a month. The final part of the project, which gained the most traction, was the rap song, 'Khadar Ki Ladkiyan'.

The girls really put in a lot of their personal time and a lot of them even faced some problems at home because of it. That, however, did not stop them. They were so motivated to tell their story and take control of their lives that it was great to see. I am happy to have been a part of the project.