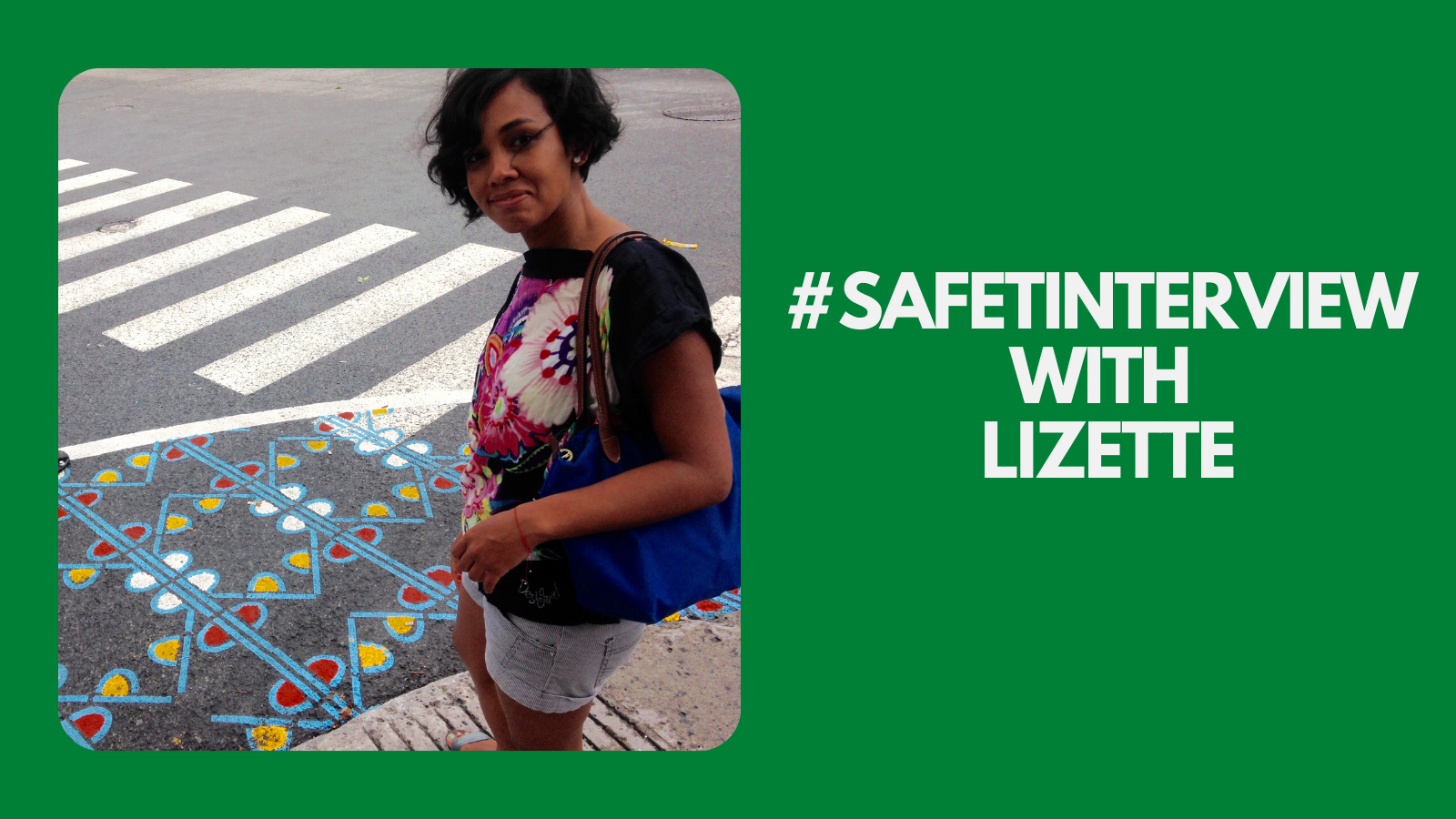 04 Oct

#SAFETINTERVIEW with Lizette

We have done some work in Port Moresby around market areas and public transport and we did this project with UN Women and were so incredibly lucky to meet and work with some amazing people. One of the people we got to know was Lizette Soria Sortello. Lizette is a Peruvian, which has played an important role in the way she understands a city and those insights are clearly seen in this interview and in her work. She is an urban sociologist working with UN Women.

Keep reading to know more about the awesome work Lizette has done and about her learnings and experiences along the way.

Q. Could you tell me about your experience of living in Peru and how the move to Canada was?

I grew up in three Latin American cities where sexual harassment in public spaces was normalized, as in many cities across the globe. Growing up there, I thought it was normal and I was used to changing my route to places to avoid being catcalled, or taking a longer route to find a safer route back home. This perception of mine changed when I moved to Montreal at the age of 18. It was such an eye-opening moment for me when I was able to experience the city in ways that I had never done before. I was able to go around by myself and ride my bike at night without much worry which was quite different from back home. I felt empowered. Noticing this difference got me more interested in the issue of women's safety and access to a city's infrastructure. I wanted to understand better the intersection between cities and gender so I started digging deeper to figure out why sexual harassment happens, how cities are designed, and how it affects peoples' lives, particularly women. I have now been working on this issue for over 10 years.

Q. Can you tell me more about the UN Women's Global Safe Cities and Safe Public Spaces Programme?

UN Women launched the Global Safe Cities and Safe Public Spaces Flagship Programme Initiative in November 2010 with five founding cities (Cairo, New Delhi, Quito, Kigali and Port Moresby) with the overall goal to prevent and respond to sexual violence against women and girls (SVAWG) in public spaces. At the time, there was limited experience on safe cities programming which limited the scale and scope for us, there were only a few evaluations available and there was lack of reliable and specific data on SVAWG in public spaces.

In 2013- 2014 the initiative was scaled up to 15 cities, and today the Global Initiative spans nearly 40 cities in over 22 countries, with increased demand from cities across the world. Through a comprehensive strategy based on evidence, cities commit to reduce sexual harassment and other forms of violence against women in public spaces through the creation of data, partnerships, policies, investments and transformative change in social norms.

We work directly with city authorities, grassroots women and youth, men's groups and organizations, urban planners, research and educational institutions, private sector and other UN agencies to create safer spaces around streets in and around schools, public transportation, public toilets, markets and parks. Delhi was actually one of the founding cities as a part of this programme. It's been a great learning journey for us and over the years, we have expanded to public spaces in rural and urban settings.

Q. Having worked with so many cities, what is something interesting that you have learned?

While working on the global initiative, I learned that all cities with strong leadership and commitment can create change. What has always fascinated me is that, once authority leaders, women rights organizations, youth organizations and the communities in general are engaged, they find solutions despite the challenges. It is very inspiring for me to see! For me, personally, it's always really encouraging to see people, especially young girls and boys discussing and addressing the issue of sexual harassment in public spaces and women's rights to the city and advocating for change. It is clear that each city must find a solution to the problem in their own reality.

Q. What were the highlights and challenges of working in Papua New Guinea?

Port Moresby is a unique city. It's one of the biggest cities in the Pacific and very different from what I was used to. Being a part of this project was like learning from scratch for me. To be able to successfully do this project, I had to let go certain assumptions and improve my listening skills. Human relationships and trust is also very important to create close relationships, especially in societies like theirs and mine that have gone under colonialization. With kindness, the will to listen and similar societal challenges and opportunities, we were able to create a very good foundation for a strong partnership. I met people who were facing so many problems economically and socially, but they were so resilient, especially the youth, and it was such an amazing thing to see and work with.

Throughout my profession, I have worked in transport and gender, and as a young woman of colour, it has been challenging to open doors and work in a male dominated sector. The male advocates from Papua New Guinea were unlike any I had met before, they were very keen advocates and were reliable. It was a real privilege to be a part of this project and work with so many incredible women and men.

Q. How do you think the issue of women's safety has evolved over the last decade?

I would say there has definitely been a progress in the last 10 years. I remember 10 years ago, when I had just graduated, working on the issue of women's safety, cities and gender was quite difficult. There were very few opportunities or investment and initiatives for these issue. However, in the last decade I have seen courageous women voicing their needs and more and more UN agencies, NGOs, government agencies, communities and private sector companies responding to these demands and investing in women's safety initiatives. The progress on sexual harassment and women's rights has received a lot of backlash lately and that to me means that a change is coming. Any change requires a balance of power and willingness to changing attitudes and this is not a simple process. The rate at which we're going is not enough but I want to be optimistic. The #MeToo movement showed us the power of a global movement. It showed us that there are millions of women who have faced violence and they are not okay with staying silent anymore. I hope that our generation and the new generations to come will create more opportunities for cities and public spaces free of violence and not just let it pass.

There has also been a lot of progress on how we understand our cities, public spaces and its differentiated impact on diverse populations. This has also opened up the opportunity to look at public spaces from the point of gender inclusion. Earlier, cities would not even acknowledge the different needs of their users according to age, sex, or economic access. New approaches, such as human centered design has gained importance and is giving us an opportunity to make places safer and more accessible for women and girls.

Q. Which of the SDGs does the UN Women's Programme address and how?

One of the key challenges the global programme aims to address is the lack of reliable data on sexual harassment and other forms of sexual violence against women and girls (SVAWG) in public spaces and the evaluation of women's safety strategies. Through the implementation of the global programme, cities have an opportunity to contribute to the SDG targets, in particular SDG 5 (target 5.2), and SDG 11 (target 11.7) and to share inspiring practices and lessons learned to create safe cities and safe public spaces for women and girls across the globe.