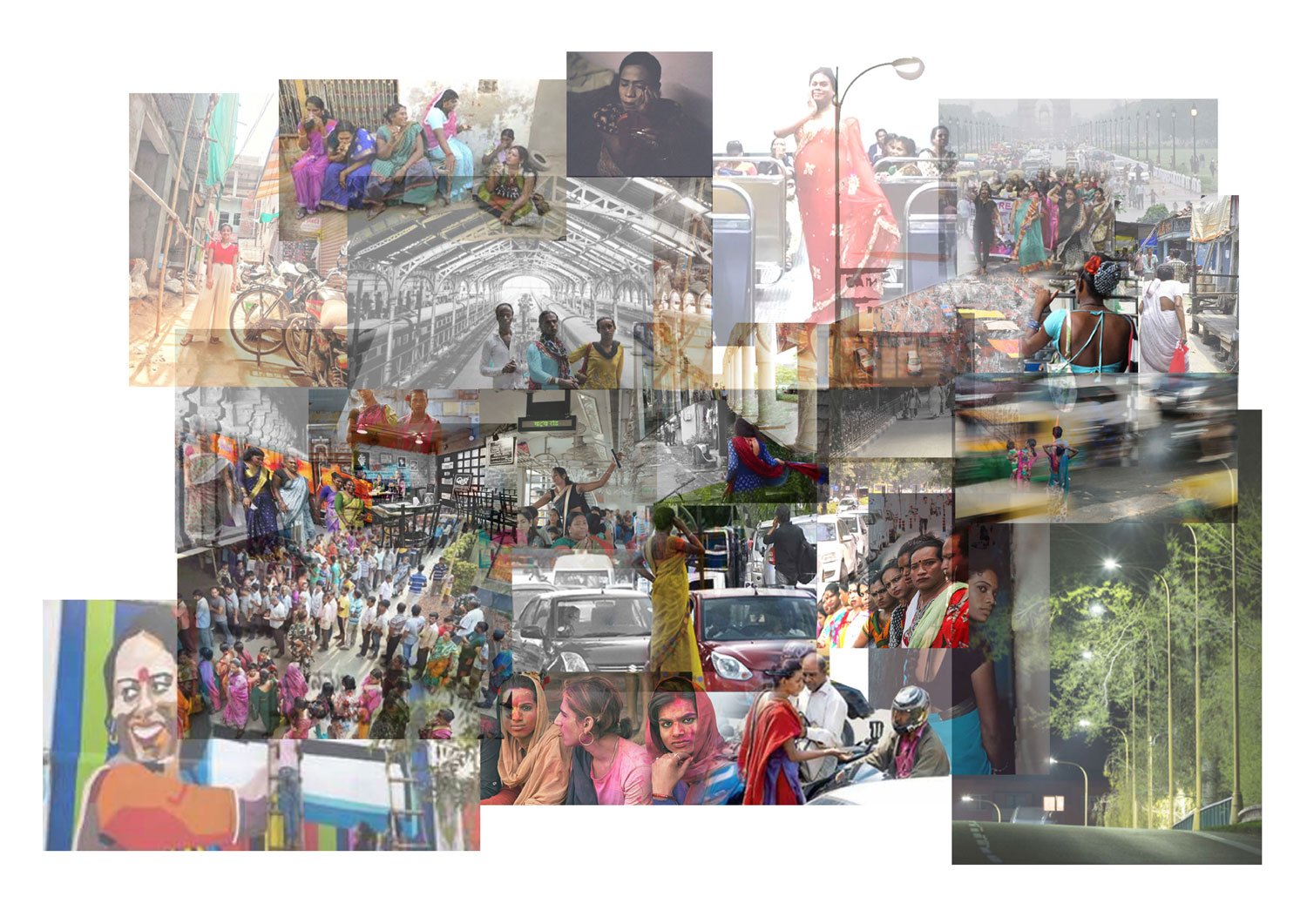 02 Nov

Tenebrosity of the everyday narratives of the Transgender Community (First Prize)

First Prize: "Re:Imagine, Re-Design, Re-Claim" Photo/Illustration Competition for #UrbanOctober2021

Theme: Beyond the Binary: Queer interactions within the urban realm.

The visual illustrations/mappings are an embellished version of multiple narratives  and experiences that the transgender community faces in their everyday life.  Transgender are striving for a long time to achieve their rights. The result is not  encouraging and affects their vulnerability at each step. The genesis of the issue  is the lack of empirical evidence on the discriminatory attitude and regulatory  bias within the law enforcement agencies against them. They are perceived as  'non-legitimate users. Trans' political and social lives while embracing their sexual  identity in coherence with the processes of urbanization and urban regulations  continuously transforms.

The hegemonic expectations of the space due to the presence of trans get  challenged and provocative. Thus, the social production of these spaces  exhibits the practice of gendering. The mapping methods unpack the stringent  intersectionalities of people, spaces, and social behavior through a spatial lens.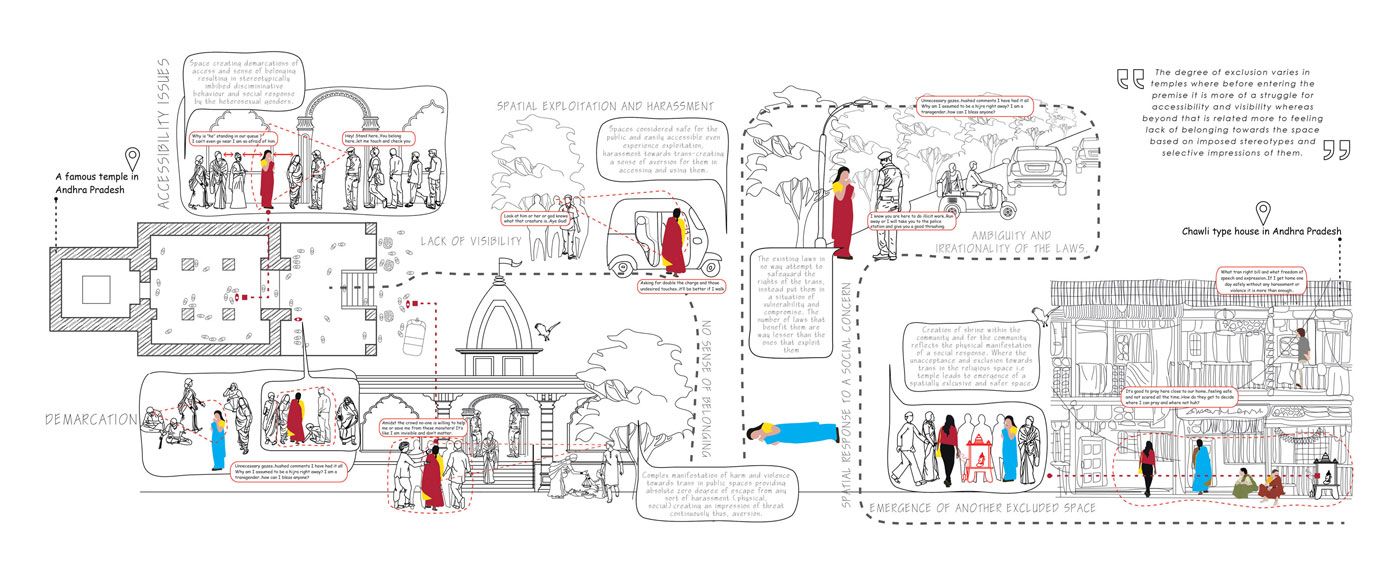 TEMPLE – The space projects parallels between the ridiculous beliefs of the society and the projected image of the temple as a sacred and holy infrastructural manifestation that condenses the ideal tenets. The overlap of this influences the creation of religious and socio-spatial demarcation and segregations that the space will uphold.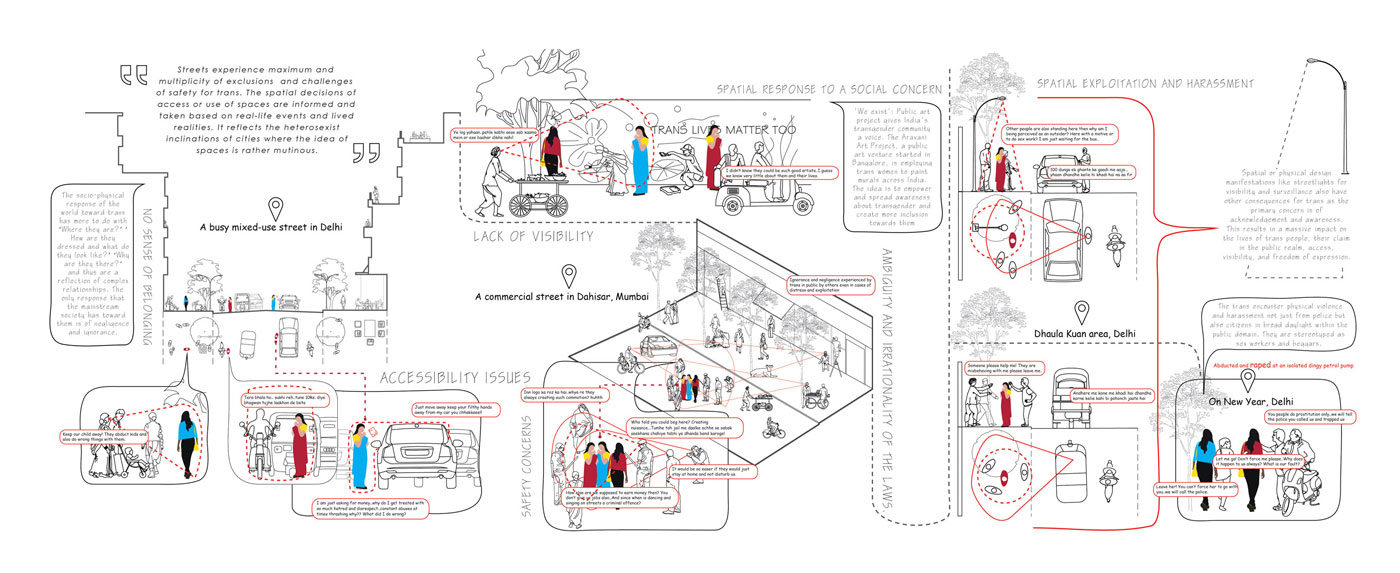 STREETS – Streets are in a constant state of flux with users accessing them always in transience. The social violence, prejudice, spatial division interlocked within the built environment circumscribe the lives of trans. The hetero-sexist inclinations force them to regulate their conduct and channelize their actions to fit in and re
negotiate their claims in the 'supposed shared' space.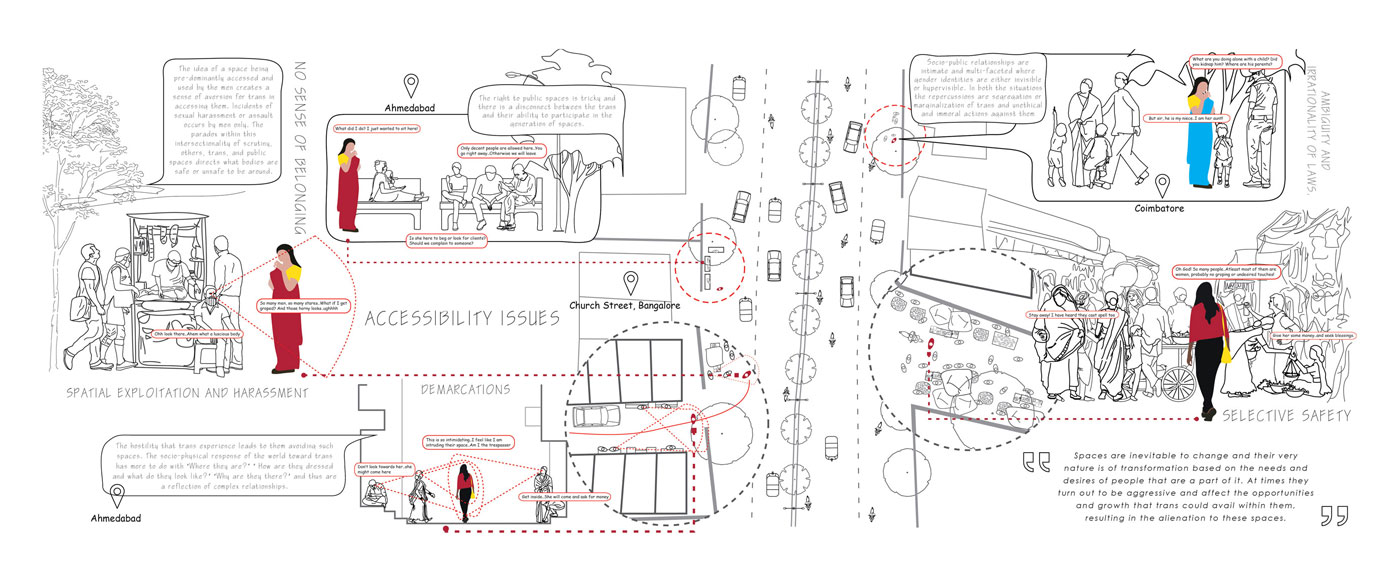 CAFES/RESTAURANTS – These spaces are hot spots of social engagement and catalyze interactions and associations of masses actively and passively. Despite the welcoming environment and casual ambiance trans experience disassociation within them based on selective user access, delineated behavioral norms that diminish their spatial production and claims within these urban spaces.
About the Author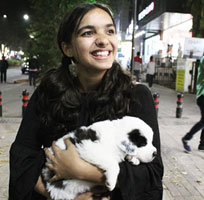 Sparsh Patlan is a conscientious person with a constant urge to challenge the monotony of the 'itna to chalta hai' attitude and always strive towards making a difference even at the most initial level. She is a budding urban design student, and an inquisitive soul trying to understand growing urban-ism and the social and development sector in cohesion with human behavior, spaces, and socio-cultural environment. The illustrations are a part of her final-year research project at CEPT University, Under the supervision of Dr. Deepa Ramaswamy