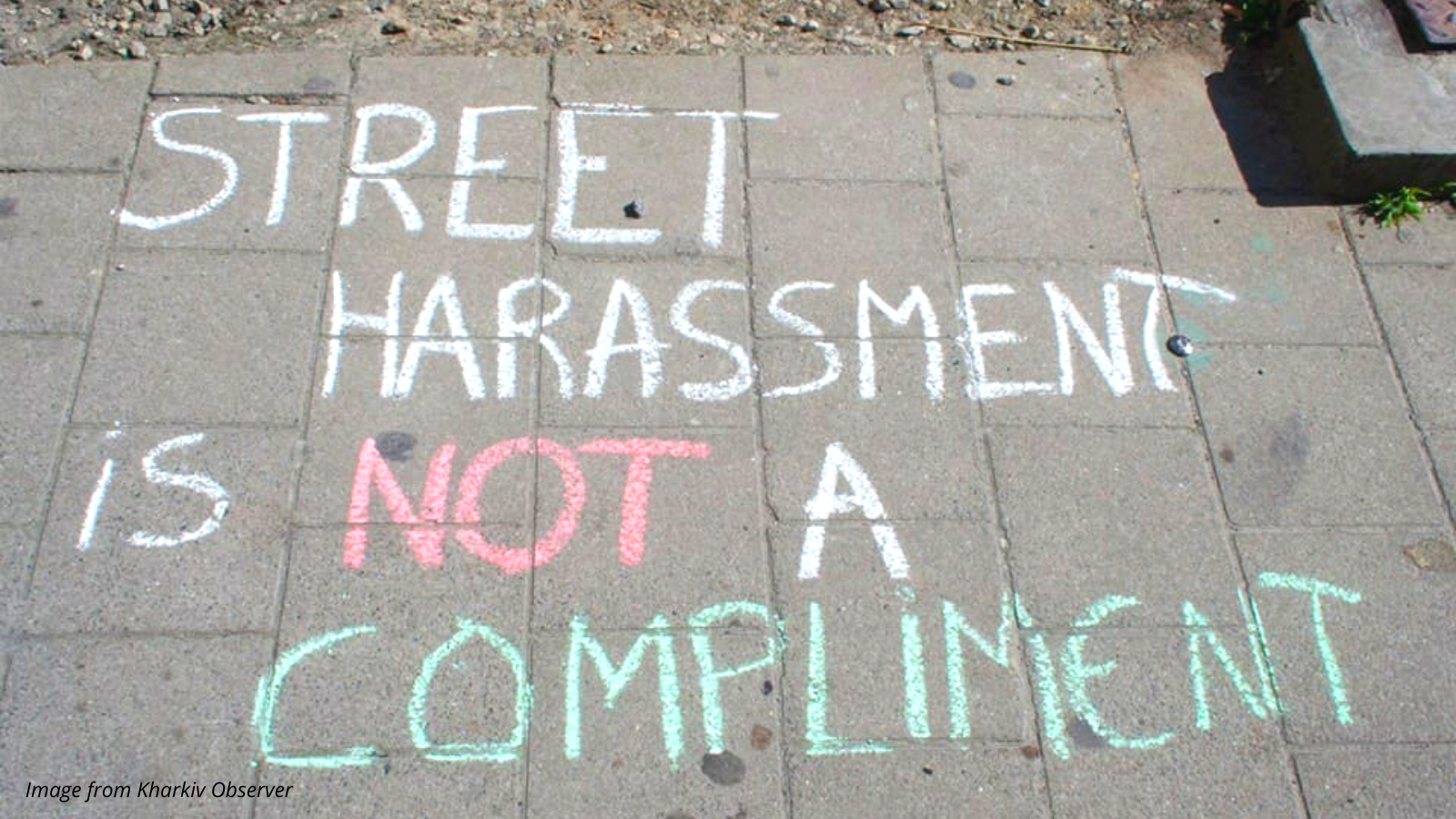 21 Jun

Street Harassment: An Epidemic of Gender Violence

"I am not free while any woman is unfree, even when her shackles are very different from my own"
-Audra Lorde, 1981

In 1991, scholar Elizabeth A. Kissling called street harassment a form of sexual terrorism as one never knows when it can happen—or how far it may escalate. [1] According to Stop Street Harassment, sexual harassment in public spaces can extend to all kinds of physical, verbal and non –verbal actions intended to hurt and harm, with the perpetrator often being a stranger and the incident taking place publicly without consent. [2] It becomes more complex when considering intersectional categories such as caste, class, race, age, religion, disability and sexual orientation.

A 2018 international survey conducted among 30,890 people across 40 countries found that sexual harassment was prevalent in all countries surveyed, where younger females aged 18-34 were most subjected to sexual harassment (15.6%) and incidents of violence (20%). [3] India tops the global ranking of most dangerous countries for women [Thomson Reuters Foundation, 2018].  A 2015 study conducted by international charity Action Aid found that 79% of women in India had experienced some form of sexual harassment in public. [4] In 2018, the country reported a stalking case every 55 minutes, as per the National Crime Records Bureau. [5] The findings of a survey conducted by Jagori in Delhi found that the majority of incidents of street harassment took place in broad daylight, where roads and public transport emerged to be most unsafe. [6] Only one in 13 cases of sexual harassment in India's capital Delhi and one in 9 in Mumbai were reported to the police, according to a 2015 study led by Commonwealth Human Rights Initiative (CHRI). [7]

Crimes against women remain largely under-reported in India, and sexual harassment complaints are frequently ignored, despite several rape cases in recent years that triggered nationwide protests and led to stricter legislation [Thomson Reuters Foundation, 2016]. The 2015 CHRI survey in Mumbai and Delhi showed that sexual harassment of women was the third most common crime, but most people who did not report it said they did not want to be caught up in bureaucracy or did not believe the police could help. [8] Stigma is often attached to being harassed in many cultures, resulting in unreported cases. Justification of harassment can manifest in statements such as 'she asked for it', 'what were you thinking walking alone?' and 'why would you wear that?' frequently offered by law enforcement, witnesses or even known individuals who look for ways a woman deserved her assault. The public nature of street harassment is attributed to the bystander effect- when it is unlikely that those witnessing harassment will stop it either by calling authorities or intervening. There is a dearth of consensus in what constitutes gender violence, due to lack of awareness, patriarchal conditioning and definitions of harassment being unclear. This culminates into biased views towards women, victim-blaming and rape-myth acceptance. [9]

April 11th through 17th marked the 11th International Anti-Street Harassment Week. To raise awareness, Safetipin surveyed 243 respondents on Instagram. 95% of  female respondents said they had faced some form of street harassment. These were our findings: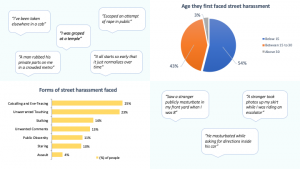 The process of conditioning, silencing and victim-blaming reinforces the need to tackle this issue. Sexual harassment is not just a series of isolated or impulsive acts but is backed by widespread sexism, body politics and inadequate resource allocation towards women's safety. Street harassment disproportionately affects women throughout their lives. It is part of a larger epidemic of violence posing a significant threat to women's autonomy. Ultimately, it becomes a violation of consent in public, driving women to retreat to private spaces and curtailing their freedom. Worldwide research examining socio-political contexts and psycho-social consequences have concluded that men harassing women in public is a symptom of patriarchy which perpetuates women as inferior objects of prey. Harassment is magnified when we belittle it, stigmatize it or choose to ignore it. This is why voices and experiences of street harassment deserve a platform, where we are not just survivors but also agents of social change.
If you are facing any sort of violence or harassment, you can reach out to the following resources:
Women Helpline: 1091
Missing Child or Woman Helpline: 1094
National Commission For Women (NCW): 011-26942369, 26944754
Link to Statewise Women Helpline Numbers: https://indianhelpline.com/WOMEN-HELPLINE/