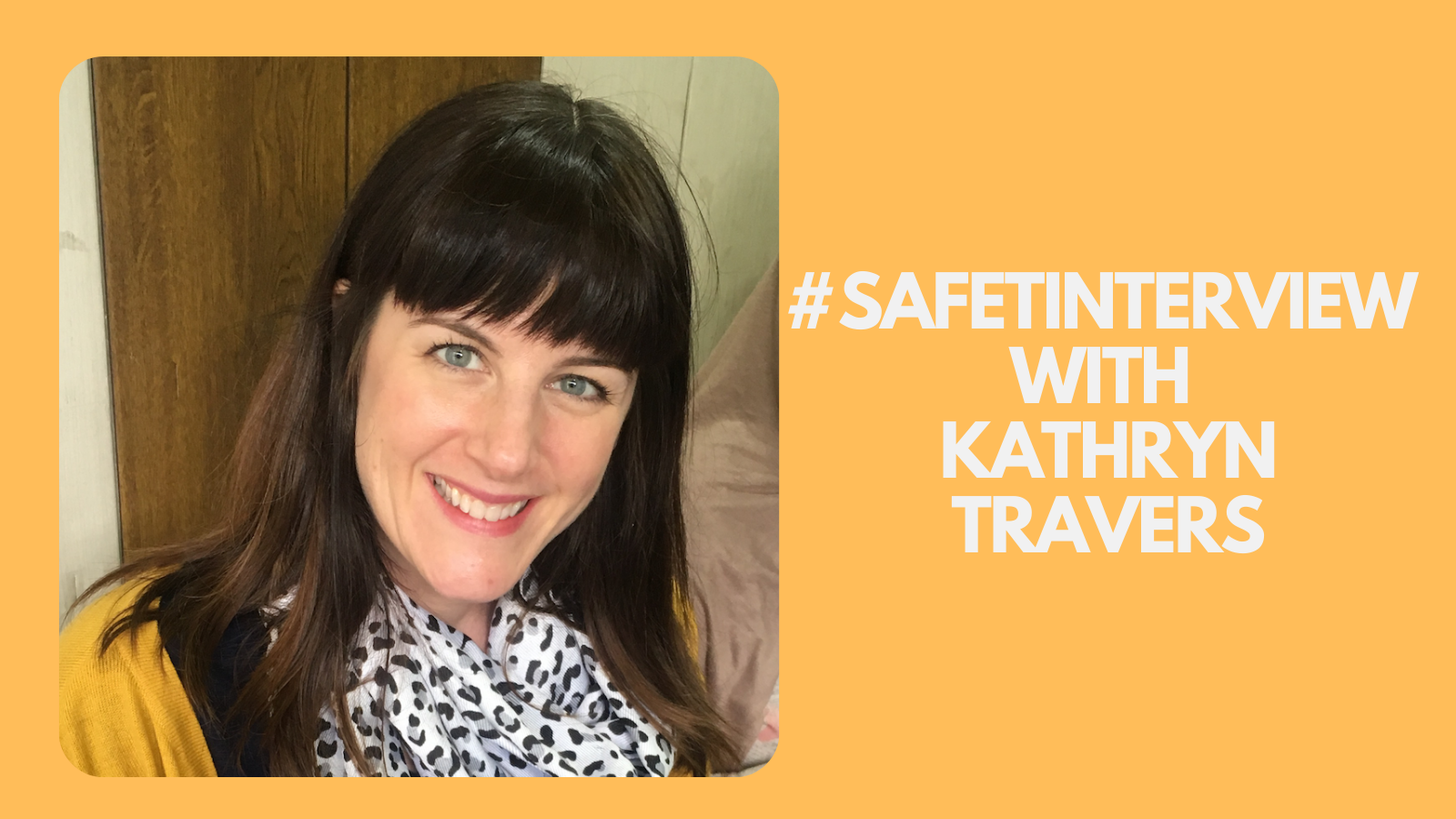 04 Oct

#SAFETINTERVIEW with Kathryn Travers

Kathryn Travers is the Executive Director at Women in Cities International. She has a background in criminology and sociology and did her master's coursework in Costa Rica in International Peace Studies and Conflict Resolution. Post this, she moved to New York to complete an internship with the UN in the Mediation Support Unit. While she was living in New York, Women in Cities International (WICI) reached out to her to work on a project that would include working with different groups of women who experience particular exclusion, for example, elderly women, urban aboriginal women, etc.

"That project set the tone for me, about what kind of work I'd want to do and what my area of interest was", she said.

Q. Can you tell me more about WICI and how your experience working with WICI has been?

Let me first tell you about how WICI started. WICI is the outcome of the first International Conference on Women's Safety which took place in Montreal, in 2002. At that time, the City of Montreal had a program called Femmes et Ville, "Women and the City" that worked on issues of gender inclusion at the city level. By the virtue of organizing this conference and discussing work in urban public spaces, the conference organizers unknowingly created an international network. Once this happened, they decided to formalize it so as to be able to maintain the network they had created and to strive to share knowledge and tools with a wider audience.

So, at its origin, WICI was basically a network organization that aimed to make information available to all, for learning, advocacy, local level work, education and awareness purposes. To this day, WICI's funding is project-based, and we have no core funding, which is an ongoing challenge for the organization. Our first few projects were mainly research based. For example, we got a grant to support a women safety award in 2004, which put a spotlight on good practices around the world. We also facilitated some online dialogues that we wrote up into short reports. Post this, we got into programming and technical assistance more.

We were looking at how we were approaching women's safety and inclusion in the city, and more importantly, how to be intersectional about it. We believe that women around the world have different experiences from one another because of their multiple identity markers so we decided to look at other issues that affect women as well, and not just safety. We evaluated the social and built environments and then started thinking about mobility, transportation and women's movement around a city, as well and opportunities for women to participate in shaping the city.

Our end goal is to make places and cities more sustainable even after we leave and one of the best ways to do this is through partnerships. We wanted to go beyond just bringing the government to the table and give importance to the fact that though the grass-root organizations need the government, the government needs them too, in order to understand the base of the problem. Due to this, we started being more deliberate with our training and made sure that both parties received the training or support they needed to be at equal levels before meeting each other. This way, all communication between the organizations and governments was fruitful right from the start.

Q. Can you tell me about your work in Canada on Safe Cities? And your adaptations of the safety audit and its use?

The first project I worked on with WICI was a pan-Canadian project where we worked with four different cities with four different groups of women. In Montreal, we worked with differently-abled women. In the other three cities, we worked with elderly women (Gatineau), immigrant women (Peel region near Toronto) and urban aboriginal women (Regina), respectively. They all face different types of safety issues and it was so interesting because we worked with these groups individually first and then got them all together. When they all met, they loved it and found that it was so enriching and important to have peer learnings. More importantly, they expanded their own reflections about the challenges women face in the city to think about the needs of the women they met. So, in all four cities, tools like the women's safety audit were adapted to include things like universal accessibility or longer street crossing times to make it easier for older women, among other things. After this, peer learning and exchange became a core principle of our work.

I think a common mistake we make when talking about people living with disabilities is that we automatically assume a very prominent physical disability, most often requiring the use of a wheelchair, and that is not always the case. I had one really amazing experience with women without sight which I talk about in workshops and conferences till date. Doing an audit is a largely sight-based process where you note down what you see around you but working with these women we learned to expand the audit process to encompass all 5 senses. The women with limited or no visual ability would utilize their sense of smell and they would tell us things before we could see them. For example, once when we were walking, one of the women stopped us and told us to be careful as there might be broken glass around the corner because she could smell beer. It was so incredible to see the power of the human body to adapt to navigate the urban space using only its strongest senses.

More recently, we did a project in Guyana, South America, in partnership with the Inter-American Development Bank (IDB) where they were investing in infrastructure as part of the transformation of an informal area in a formal neighbourhood. So, we worked with the community women and did safety audits to prioritize what needed to be done first. For example, to add drainage in front of a primary school where the road flooded when it rained, or to add street lighting to the routes women took to go to the market etc., it was based on making spaces more inclusive, and on prioritizing urban upgrading in a way that not only responded to local priorities but that was also gender responsive. Lately, we are working more to try to find opportunities for influence where a budget is already approved so that we can make a difference faster.

One thing we believe in is forming strong partnerships very early on in the project and not doing so only after the site diagnosis. If everyone a part of the project works together from the start, then the entire course of the project goes more smoothly.

Q. What do you think has been your biggest challenge and achievement while working with women or girls to build safe cities?

One of the biggest challenges is that whenever we work with the local people, we need to address their issues and show some results faster than sometimes possible. They are asked to give their time and participate in surveys and they do it on the promise of change. So, we have council meetings where issues are negotiated between different stakeholders who are ultimately responsible for implementing change and the local people who have expectations to see results quickly and we have to manage it. One thing we do is to identify the quick wins first so that people feel like they've been heard. Something like installing street lights in different areas is a time-consuming process and this is always difficult to explain to the local people who want to see immediate change.

Another challenge for me, personally, is that we're funded per project and sometimes it feels that as soon as we gain a good momentum, the funding finishes and this limits the potential impact of our work. This is the reason I believe partnerships can make a huge difference. If we're not the only ones working on a project, then work can continue even after our time is up.

When it comes to achievements, I think the small achievements along the way are always extremely motivating to continue with the project. The example of working with differently-abled women and their abilities to innovate and adapt the audits to still use the tool but to do so relying on their other senses is a story I share at all safety audit events. It has a big multiplier factor, because it inspires and motivates people. I think if we're sitting somewhere and have the opportunity to make a difference, then it's our responsibility and privilege to speak for women who can't do it for themselves or who don't yet have a seat around the table.

Q. How do you think the issue of women's safety has evolved over the last decade?

There have been many waves in the movement for women's rights and safety. I think the #MeToo movement shed light on the fact that every woman, irrespective of fame, class or religion, has faced harassment in some form or another and the fact that Hollywood actors came out and openly spoke about it gave a lot of women the confidence to share their experiences as well. #MeToo showed us that harassment is a global problem and has created a space for conversations that were previously not considered as proper things to speak about.

Another thing is that, in the past we have spoken about domestic abuse policy and how data was always required to make a case. Now, we are talking about harassment and saying that a woman's experience and story holds importance too. #MeToo is a safe space for discussion but now we need to have a safe space for more than discussion, we need to focus on prevention and for taking action as well. This was a stepping stone in what I hope is a much bigger movement to not only acknowledge women's experiences of harassment or violence, but of transforming social norms and working to end harassment and violence against all women and girls.