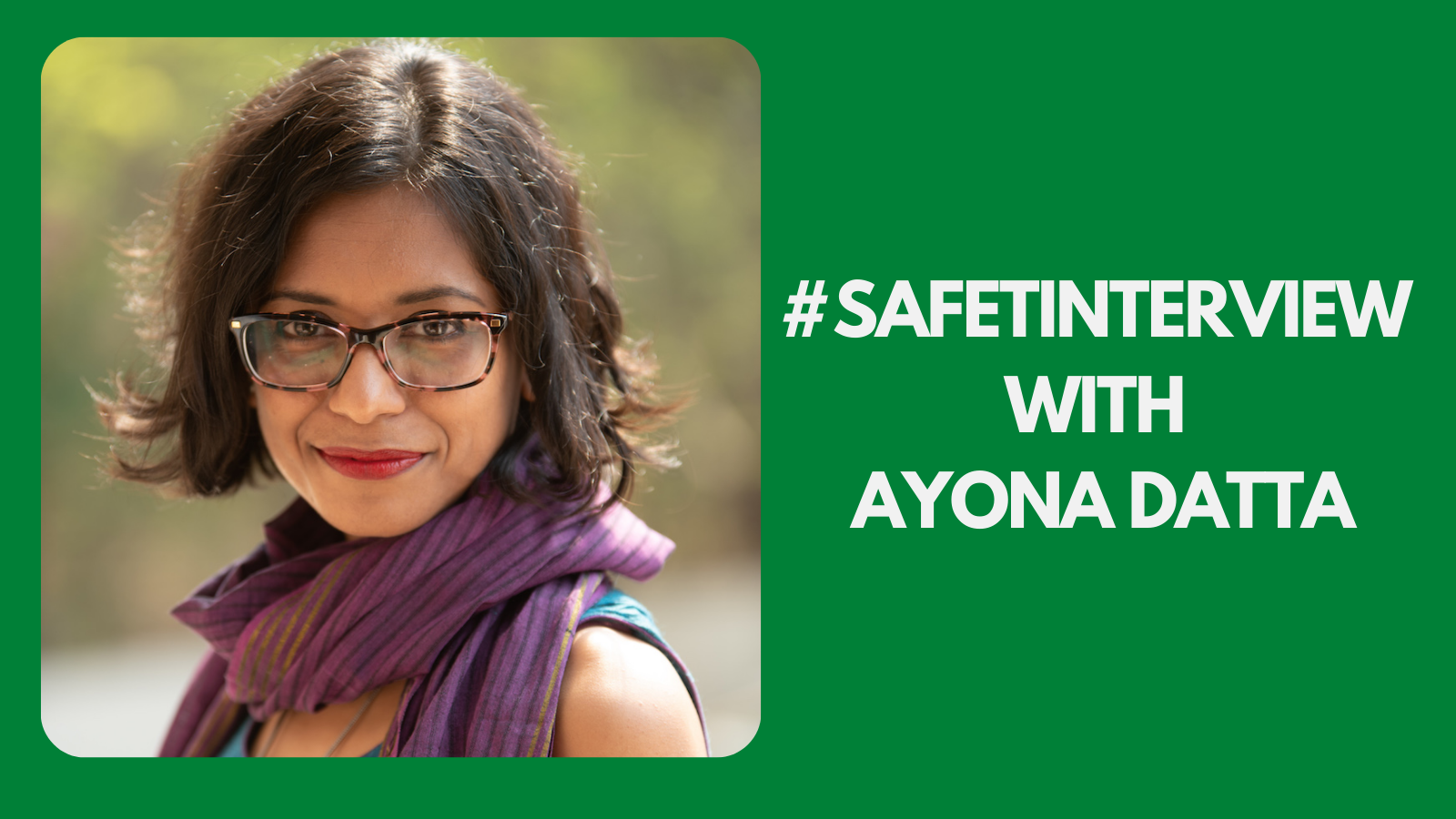 04 Oct

#SAFETINTERVIEW with Ayona Datta

Ayona Datta, author of "The Illegal City: Space, Law and Gender in a Delhi Squatter Settlement", and Busk Medal awardee from Royal Geographical Society (with IBG) is Reader of Urban Futures (Associate Professor) in King's College, London. She has a background in architecture, environmental design and planning. We worked with her on the #AanaJaana project which has created a fruitful partnership between us. She is a dedicated, hard working and an extremely bright person who is super fun to work with and talk to. I had a great time speaking with her for this interview, I feel like I have learned a lot!

Keep scrolling to know more about Ayona, her journey and the challenges she has faced.

Q. Can you tell me your interests, in research and work?

My research interests include postcolonial urbanism and the examination of cities in the global south through the lens of gender. I have been researching gender power dynamics and how it is experienced from the household level to the physical forms of cities – its politics, social and cultural dynamics.

Recently, I have been examining the politics of smart cities and the intersection between the digital, political, social and physical processes in the same. I want to address these issues by looking at disadvantaged groups be it caste, colour, gender etc. My interest in smart cities has mainly been because of the shift to digital technologies to govern the city which we have seen in the last few years. There is a digital platform for everything and it's really interesting for me to see as an academic – the growth and impact of online spaces. It's also very intriguing to see the impact digitization has on physical spaces.

Q. I know that you grew up in Delhi and are currently raising your daughters in London. What is your experience with that? Also, I know about your busy work schedule, how do you maintain the work-life balance?

This is an interesting question and I can say that it's very different growing up in India and in the UK. What really works for me and is a key factor in me being able to do the work that I want, is that I have a very supportive partner.

We are both from India and we make it a point to visit home each year at least once. Even though I live outside, my work is on India because that's something I have always connected with and I think that feeling reaches my girls as well.

My work involves a lot of travel and so at times, it is difficult to manage with other responsibilities. Bringing my children up outside India is a challenge at times because they are not embedded in all the cultural norms and practices that I grew up with. But it is also not that different. As a Bengali growing up in Delhi in the 1980s, I have had to deal with questions about difference, particularly in languages and food. For my girls, it's about racial difference, skin colour and religion. I talk to them about difference and try to make them feel proud of their identity, and who they are.

Q. How did you get interested in gender and urbanism?

In my final year research project for my Architecture degree, I decided to work with women construction labourers. Little did I know at that time, that this project would help define the rest of my career. Going in, I had no idea what I was in for. For my project, I was supposed to address the issue from an architectural front and not a social one. So, I went in, with no social research methods training, and got confronted by so many issues all at once, like poverty, labour, exploitation, children on site etc., with no guidelines on how to deal with it. Having grown up in a middle-class family, this was a real eye-opener for me. I had initially planned a survey but ended up throwing it away quite early on in the project. I started staying in with the workers, eating with them in the evening and spending time with them so that I could understand their lives better. I used to spend the day in Nehru place which was where they were building the big hotels and offices and then go back in the buses with them to the labour camps near Surajkund. My parents would be very worried but I think it was this experience that really shaped me. When I finally presented the project to my faculty, I was repeatedly questioned on how I had incorporated architectural concerns in my project and I had no answer. In the end, my supervisor supported me and said something that I keep with me till date. It was that as architects and planners, addressing issues of gender and labour exploitation in the production of our cities is our moral responsibility.

Though this project was an eye-opening one, my real academic inroads in issues of gender was when I started my PhD. I wanted to focus on women in slums but I was told that that was social work and not architecture and that's when I got into the interdisciplinary field of human geography.  It's a path I had never thought about but I opened up to it to raise questions on bigger issues including gender-based violence. My architectural education was very modernist and we were taught to solely focus on the design. I agree that you can't design your way out of gender-based violence but architecture needs to be embedded in a social context and respond to social and political imperatives. I was lucky to have had good mentors and be introduced to feminist geography, sexualized labour and conversations on gender identity and performance during my PhD days in Arizona. I got into postcolonial urbanism towards the end of my PhD because I was looking at the history of gender power relationships in the building of cities, which showed me the links between present and colonial laws and practices.

Q. What has been your deepest insight from the #AanaJaana project? And how do you think the girls have dealt with the outcomes of the project?

For me, the project was a really big learning experience. Before starting, I had not understood the paradoxical nature of the urban periphery in Madanpur Khadar. The girls that we worked with were relatively advantaged as digitally able millennials when compared to the other families of the locality but were still marginalized in terms of transport and basic amenities (like water). The women of Khadar have different boundaries and expectations as compared to men in Khadar as well as women of the middle class. One incident that I vividly remember is when one of the girls who used to have a very strict curfew would sneak out of her house to come for the video shooting. One time her brother came out to the main road and insisted she go home immediately. She stayed strong and refused because she wanted to shoot the hip-hop video. We encouraged her to go home for her safety but she stood her ground. That really moved me. Gender empowerment is more than just a political issue, it's emerges from micro experiences such as this one.

On a bigger level, this project and the song ("Khadar Ki Ladkiyan") have become international. King's College presented it on their website recently and that's great exposure. The girls have been called "Gully Girls" in the media and they have challenged so many things like the masculinized form of rap music and the condition of their environment. They have gained a lot of visibility through this project and I think that's great because visibility can be a path to legitimacy. The girls always told me that through the #AanaJaana project, they learned a lot about gender and found a safe and comfortable space for leisure. Working with them has been so enriching and insightful. My hope for this project is that it carries on as a long-term project and reaches many more women and girls because it has shown the transformational power of the arts.

Q. How do you think the issue of women's safety has evolved over the last decade?

Since I don't reside in India, I somewhat feel like an outsider to the Indian feminist movement, but I definitely identify with it even though I'm not deeply embedded in it. However, on a bigger note, I think a lot has changed since the Nirbhaya case. The ground level of harassment has changed. For example, when I was in college, it was war on the streets. Now I feel, and this is my personal experience, that men are slightly more cautious of their actions in public places. The #MeToo movement helped spread awareness about sexual harassment and allowed women to talk about it without the burden of proof. But, the #MeToo movement has not really touched any of the Khadar girls or women and girls of the working classes. It has largely remained a middle-class movement. Even if the women in working classes decided to take to social media, they run a greater risk of cyber bullying and harassment for which they don't yet have the support or confidence to deal with. I know we have come a long way with sexual harassment and opening up about it but there's a lot more we can do to make the entire movement more inclusive.