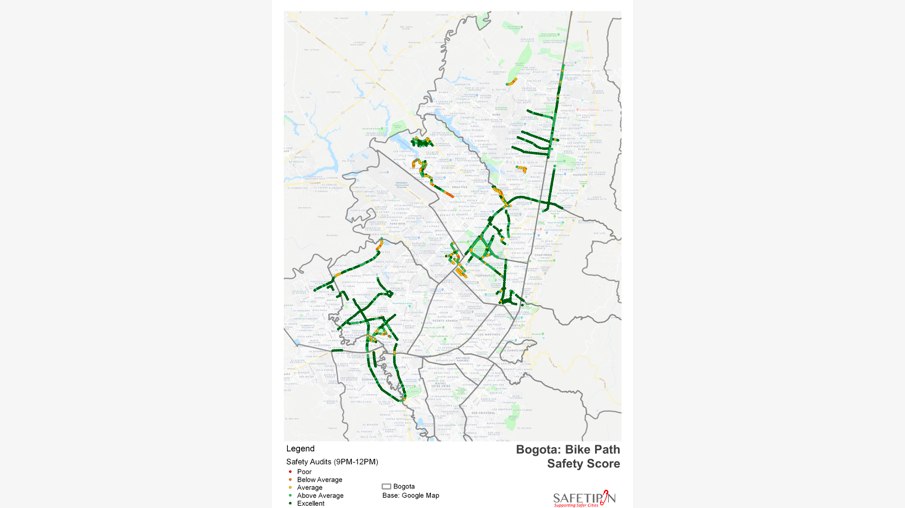 Safetipin has had a long-standing partner in the Secretary of Women Department in Bogota city. They first translated the Safetipin app into Spanish language in April 2014 when it was launched in Bogota by the Secretary. As part of a three city project supported by Cities Alliance, the entire city of Bogota was mapped using the two apps, My Safetipin and Safetipin Nite. During this process, the Bogota city team felt that it would be useful for them if the bike paths were mapped for safety as well as the main road. For us at Safetipin, this was an interesting innovation to our tool and methodology. They got the biking community involved in the activity of mapping and through the process, we gathered safety related data across 230 km of the bike path in the city. This data proved to be very useful for the authorities as it helped them plan where to improve lighting along the street, the location of CCTV cameras and bike stands so as to make women feel safer using the bike paths after dark.  The report of this study can be found here.
The data was used by the municipal government in several other ways. Firstly the 19 localities used the data to integrate into their land use planning. The local government integrated the data layer with existing layers to have a deeper understanding of the problems. For example, the data on the safety score was correlated with the data about locations of police stations in different zones of the city to inform decisions about improving the situation. One of the findings from the data was that the number of women out at night was low in many parts of the city. As a response to this, the Secretary of Women held five Women take back the night events as a symbolic way to address this issue.
During the Metropolis conference held in October 2016 in Bogota, the data was presented at an event by the team.
In 2018, the Secretary of Women won the TUMI challenge instituted by GIZ  to implement Safetipin data collection in in Bogota city with a focus on collecting data during the day and night with a focus on the bike track. They forged a partnership with Safetipin to conduct this exercise over a six-month period between 2018-2019. In this second phase the mapping done was more extensive with almost 15,000 km of road covered. The report of this mapping can be found at here. Further the report and data were launched at an event in Bogota on November 28th 2019. A brief video recording of the event can be seen.