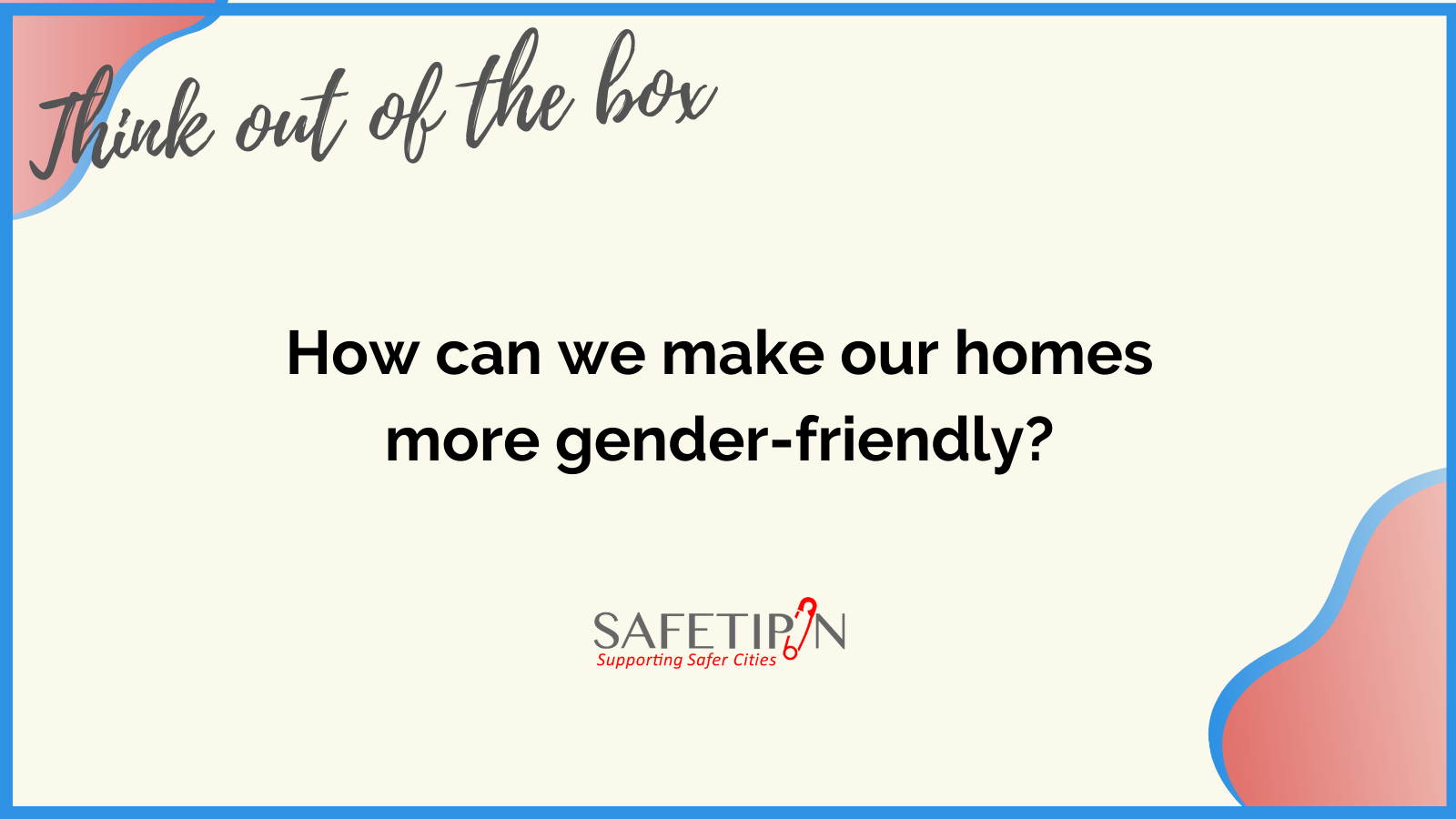 14 Apr

A gender-friendly home

How can we make our homes more gender-friendly?

This is what we asked you last week. It has now been 21 days since India has been on lockdown, though we have at least 3 more weeks to go.

During this time, unless you have full-time help staying with you, you're having to do all the house work yourself. If you're staying alone, then cleaning and managing the house is relatively easier because you only have to look after yourself. If you're living with your family, especially as a woman, the load of work has increased. Not only are you doing all the work you were doing previously, but now you have the added stress of everyone being home all the time. In times like these, we appreciate the daily workers who cook and clean for us but also understand the importance of sharing the load.

When we asked this question, we initially had the idea of how design could address the gender inequality that exists in our homes but realized very soon that design can only be addressed after relationships are. We have to start by asking simple questions of who does what work in the house. Why should only women cook? Why should women do all the cleaning and carry the burden of care? None of these tasks are gendered, so why do our norms have them? Once we truly address these questions, we can start working towards an equal home for all.

Most of the responses we got were to do with shared labour. But, an interesting addition to this point was that we should respect anyone who does the work. Since we are finally doing it ourselves, we are seeing how much effort it actually takes. See below the responses that people had.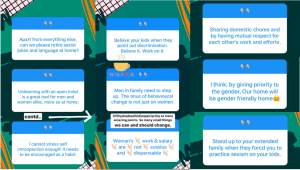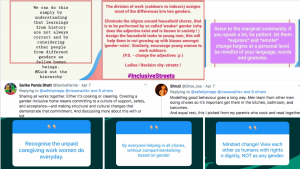 Here is a response that was too long for the small answer box we provided:
"In my classes, we often have discussions about parents who don't understand the point of feminism, support fascist ideals and are openly transphobic, and or homophobic. There are some households where parents are feminists but still believe in the death penalty as a consequence of rape. I've personally found that a lot of arguments where students enrolled in higher education programmes which help them understand the nature of inequalities that exist in our world today- students have a tendency to attempt to attack rather than negotiate. Perhaps because they understand and see oppression around them all the time better than their parents do, and are taught to understand the multiple realities that exist within the world. My only suggestion for making the home a gender friendly space thus, is to start negotiating patiently, peacefully and slowly, and to be open to the ideas that are being presented to you by your parents, but explain to them calmly that that is not what you believe. This process of negotiation can take weeks, sometimes months or even years and may never even happen at all. But one has to take into consideration that one's parents are often in spaces where they are either set in their ways or draw from what society will think/believe. For some of those families belonging to elite backgrounds, the focus is even more upon them to project a certain imagination of what they want their family to look like- a powerful family, and thus may be scared that acknowledging these multiple realities that exist, might just dismantle their power in society. Aside from this, when dealing with physically or emotionally abusive husbands, the best way out for a gender-friendly home would be to definitely seek help from organisations that deal with domestic violence, and leave that space with a plan in place. (I'm speaking of privileged women here). It's always a difficult choice, and it definitely takes a lot of getting used to- but when you finally stand on your own two feet, you'll realise you never needed him to support you with money or anything else. Starting from scratch and living a life and a home that you over time build  for yourself, that reflects you and gives you hope from all the devastation is one of the best feelings in the world." – Sara Nishika Doyle